Plan a Field Trip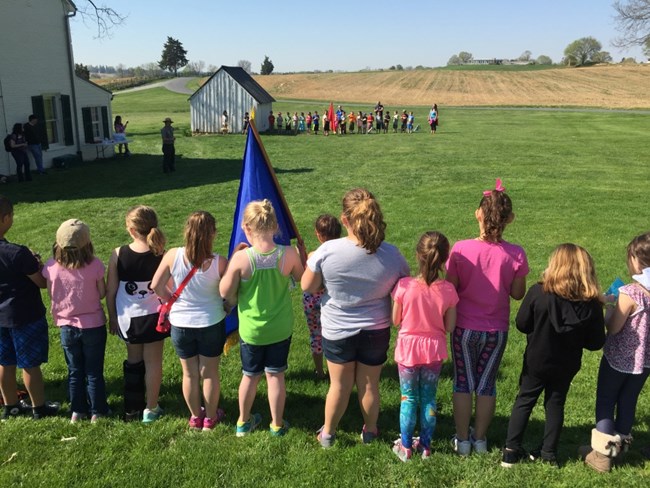 Visiting Antietam with Your Students

Introduction
School groups usually spend about 3-4 hours at Antietam National Battlefield. Most teachers bring their students to the Mumma Farm for a brief introduction to the battle and participation in one or two ranger-led programs. Afterwards the groups tour the battlefield on their own using the materials provided on this webpage. Note: Our ranger-led programs are very popular. Please contact us at least several months in advance to make your reservation.

After the ranger-led programs, the group can follow the driving
tour route
through the battlefield using one of the self-guided teacher tours of the battlefield. These
teacher-guided tours
are easy to use and follow the map in the
park brochure
. School groups usually drive the route and get out at the Dunker Church, Bloody Lane, and Burnside Bridge. The driving tour can be enhanced with the Junior Ranger activity for younger students (let us know in advance that you would like to do this activity and we will supply you with booklets and badges) and by the "Interview a Monument" activity or the "Battlefield Scavenger Hunt" for older students. We also have a
Virtual Tour
that can guide you and your students through the battlefield.

A good pre-visit activity is this short video on the Battle of Antietam

prod

uced by National Park Service rangers and/or the American Battlefield Trust's Antietam Animated Map.

Battlefield Tour

A nine-mile, bus accessible, eleven-stop tour road takes you through the battlefield. This self-guided tour takes about 1.5 hours, giving time to walk in the Bloody Lane and to the Burnside Bridge.
Tour Map.
Students and teachers may enhance their self-guided tour with the "Antietam: People and Places" (pdf, 8.2 mb) handout. It includes stories for each stop on the route and was written specifically for school groups. Another self-guided driving tour to complement your visit is "Contradictions and Divided Loyalties: Slavery on the Antietam Battleground" (pdf, 8.3 mb). This handout also follows the driving tour route and tells the stories of some of the African-American people who lived on the battlefield.
Although the battlefield tour is designed for you to do on your own, a certified battlefield guide can be hired through our museum store to lead your guided tour. Please call (301) 432-4329 to reserve a guide or for more information.
Enhancing Your Field Trip with a Ranger-led Program
Education programs are curriculum-based, interactive, hands-on, and free of charge.
We do not have the resources for park rangers to provide step-on guide services or full battlefield tours for individual school groups, we do offer a number of ranger-led education programs to enhance your students' visit. They are available year round to school groups and other youth groups. During a field trip a teacher or group leader may request one or two of the ranger-led programs listed below and then conduct a self-guided driving tour on their own.
Please note, you may pick a MAXIMUM of two ranger-led educational programs. Due to staffing we cannot accommodate groups of fewer than 15 students or groups larger than the size stated in the following program descriptions.
Ranger Led Programs
Grades K-5

Ranger-led programs suitable for elementary school students

Grades 6-8

Ranger-led programs suitable for middle school students

Grades 9-12

Ranger-led programs suitable for high school students
During Your Visit
When planning your trip:
All ranger-led education programs, except for the National Cemetery Exploration, take place at the historic Mumma Farm (stop number 6 on the driving tour route). Directions and map to the education center.

Please remind your students to dress for the weather.
In case of inclement weather, some of the ranger-led programs can be modified and presented in the Mumma Barn.

There are a few picnic tables at the Mumma Farm and we can open up the barn in bad weather for students to have a dry place to eat their lunch. (There are no chairs or tables, so they will have to picnic on the wooden floor).
There are rest-rooms (porta-johns) at the Mumma Farm Education Center.
We are a trash free park, please take all trash with you.
For groups who stop at the park visitor center, please make sure your groups are properly chaperoned.
Reservations are required for visits by school groups participating in ranger-led activities. Program availability depends on staffing levels and previously scheduled groups. April, May, and the beginning of June are very popular times for school groups. Ranger-led programs should be scheduled as early as possible (even a year in advance). Please contact the park rangers at (301) 432-5124 for reservations or for more information about your visit or you can email us.
Fee Waiver
Educational groups may request a waiver of the park entrance fees if they are making an educational visit to the battlefield. Information about receiving an academic fee waiver for your group.
Every Kid Outdoors
Fourth grade teachers, your students can see America's natural wonders and historic sites for free. Your students and their families can get free access to hundreds of parks, lands, and waters for an entire year. Visit Every Kid Outdoors for more information.
When making your field trip reservation, please let us know if you would like the for students to receive their passes on the day of their field trip. Make sure to register your students and print the voucher from the
Every Kid Outdoors website
to receive the passes. Please bring the voucher with you on the day of your visit. If you are a Washington County, MD teacher, we can deliver the passes to your classroom and talk to your students before their visit.
Last updated: April 20, 2023