Boating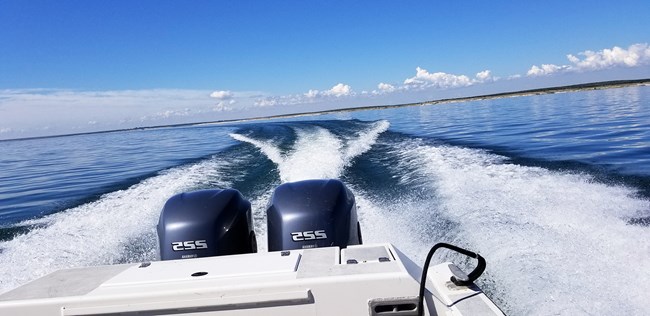 Boater's Paradise
From open water to narrow, steeply walled canyons, Amistad Reservoir is a great place for boating. The park boundary extends 74 miles up the Rio Grande, 25 miles up the Devils River, and 14 miles up the Pecos River. Protected coves abound, providing superb fishing and ideal camping spots.
Amistad is an international reservoir. The US-Mexico border is marked by buoys numbered "RG1" to "RG28" that follow the historic channel of the Rio Grande.
All Texas State boating rules and regulations are followed on the reservoir and recreational boating safety is expected. Boaters need to follow the Clean, Drain, Dry guidance to prevent the spread of aquatic invasive species. It is recommended that all passengers wear life jackets (also called PFDs or Personal Floatation Devices) while on the water. And, be sure to adequately prepare yourself and your vessel for a great time on the reservoir! Our brochure on boating will provide additional information.
Lake Use Passes
Amistad National Recreation Area charges a lake use fee for all watercraft requiring State registration.

Boat Ramps
The main boat ramps are located at Diablo East, Rough Canyon, Box Canyon, and Southwinds (U.S. Air Force) Marina. Ramps are also available at Black Brush Point, 277 North, 277 South, Spur 406, Spur 454, and the Pecos River. Depending on lake conditions, these ramps may or may not be open.
*** Because of fluctuating lake levels, boat ramp status may change quickly; keep checking this page for updated boat ramp conditions.

As of August 15, 2022, the reservoir hit a new historic low. The water surface was 1,052.48 feet above mean sea level (ams), and the reservoir was 30.3% full. On July 10, 2023, the lake level was 1,068.47 feet ams and was at 38.1% of capacity.

Please continue to remain vigilant for potential water hazards and--of course--clean, drain, and dry boats and all equipment every time you leave the water.


Unless otherwise posted, closed ramps may be used for launching small, lightweight craft that can be carried to the water's edge.

| Boat Ramp | Open | Closed |
| --- | --- | --- |
| Amistad Acres | | X |
| Black Brush Point | | X |
| Box Canyon | ✓ | |
| Diablo East | ✓ | |
| Pecos River | | X |
| Rough Canyon Marina (High Water) | | X |
| Rough Canyon Marina (Low Water) | ✓ | |
| Southwinds Marina | ✓ | |
| Spur 406 | ✓ | |
| Spur 454 (High Water) | | X |
| Spur 454 (Low Water) | ✓ | |
| 277 North | | X |
| 277 South | | X |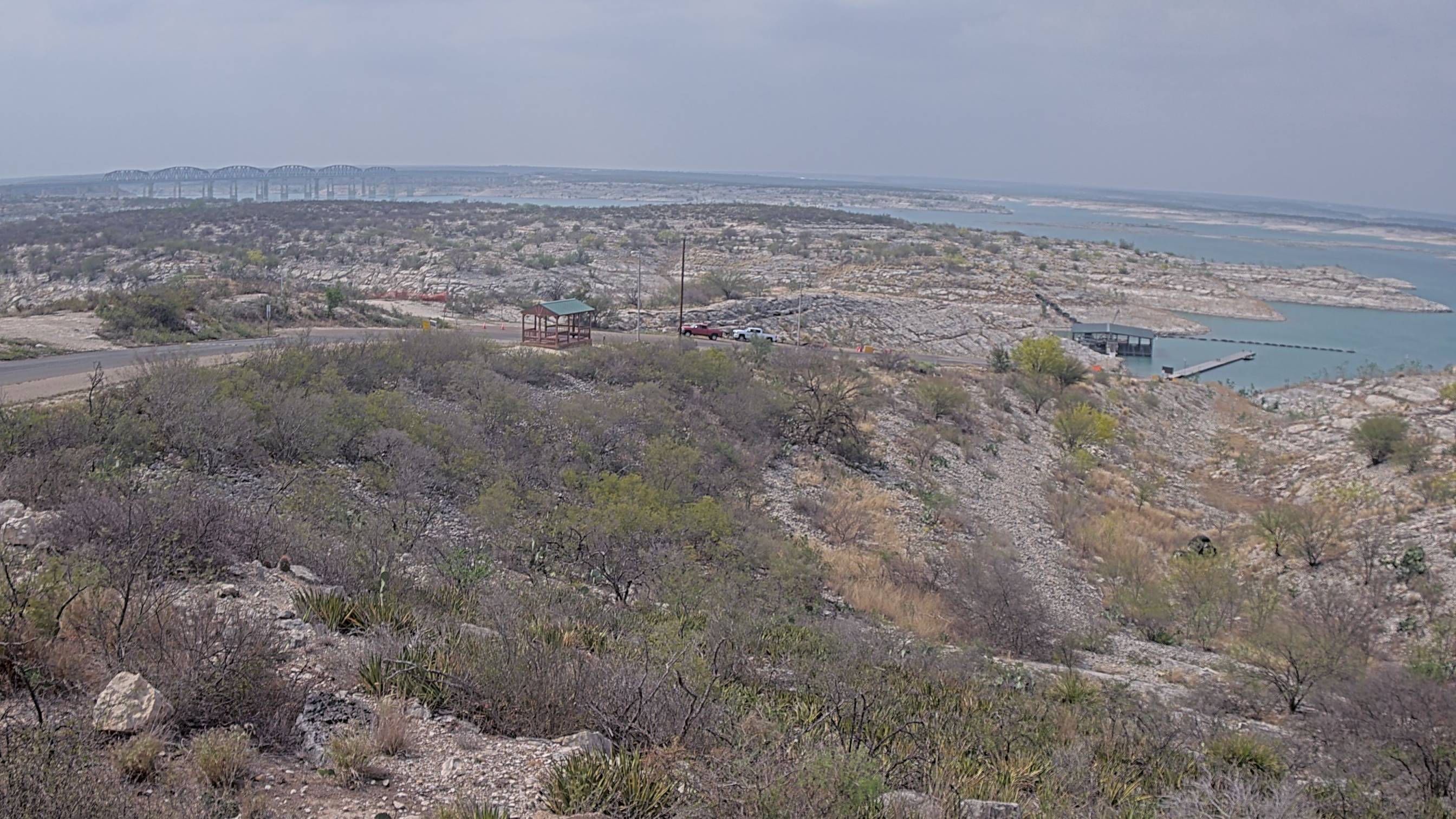 Webcam
View of Diablo East boat ramp and surrounding area conditions.
View Webcam
Commercial Boat Rentals
See our list of Guides and Rentals with Commercial Use Authorizations to operate within Amistad National Recreation Area.
Marinas
Southwinds Marina
Southwinds (U.S. Air Force) Marina is available to active and retired military personnel. U.S. Air Force does sell marine gas to the public at Southwinds Marina. This is the only location on the lake where marine gas is available. Marine gas is available to the public Monday to Thursday from 10 a.m. to 5 p.m. and Friday to Sunday from 10 a.m. to 7 p.m. Please call 830-775-7800 for more information.
Rough Canyon Marina
Rough Canyon Rentals, LLC, has a lease with the park and rents boat slips and mooring buoys at the Rough Canyon Marina. They also have a sewage pump-out dock at their facility. They do not sell boat gas, and there are currently no boats available for rent. They are located 23 miles northwest of Del Rio, about seven miles west of U.S. Highway 277 N on Recreation Road #2.

Rough Canyon Rentals LLC
(325) 213-6950
roughcanyonrentals@gmail.com
Water Skiing
Water skiing is permitted at Amistad. However, there is no commercial skiing available, so you must bring your own boat and skis.

When skiing, please be courteous to all others on the lake and ski safely by staying out of dangerous and shallow areas and by learning hand signals to communicate with your driver and spotter. Always wear a PFD and never ski under the influence of drugs or alcohol. Avoid fatigue; know when enough is enough and listen to your body. Skiing all day in the hot sun can lead to injuries. It is your responsibility be familiar with boating safety and know all State of Texas rules and regulations.
Other Considerations Related to Boating
Last updated: August 29, 2023