Indoor Activities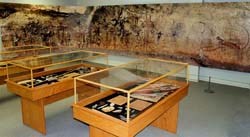 Visitor Information Center

Amistad Visitor Information Center
Open daily from 8 am to 4:30 pm Central Standard Time (CST)

Phone
830-775-7491 extension 0
Location
Visitor Information Center is located six miles northwest of Del Rio city limits at 10477 US Hwy 90 W.

Movie Theater
For your viewing pleasure, several movies are available upon request in the Visitor Center movie theater. The Transparent Border is an engaging 35-minute film about Amistad National Recreation Area.
If you are interested in rock art, there are two films available. Spirits of the Canyon is a 30-minute film that gives insight into the Lower Pecos region rock art. A short 10-minute film about SHUMLA School and local rock art called Window to the Past is also available.
If you are traveling to Big Bend National Park, stop in and watch a 30-minute film about the park called A Land of Contrasts.

Exhibits
Exhibits interpret the history, natural, and cultural resources of Amistad National Recreation Area and the region.

Additional Facilities Available
Restrooms are available for public use.
Big Bend Natural History Association Bookstore carries bandanas, water bottles, Junior Ranger items, and a distinctive selection of books and printed materials on a variety of subjects related to the local region.
Daily and annual Amistad Lake Use Passes and Amistad seasonal hunting permits are available for purchase.

For fishing tournaments and other special use permits, call Amistad National Recreation Area Headquarters at 830-775-7492 extension 2202.
Junior Ranger Program
Ask a ranger at the Visitor Center for the Amistad Junior Ranger Book. Work on fun and educational activities to earn your Junior Ranger badge and patch. Start your collection of National Park Junior Ranger badges (or patches) here!


Last updated: May 4, 2019