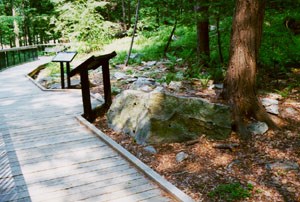 Train Rides
As of March 18, 2014, you are 160 years too late for a train ride, sorry! While there are models of stationary engines and locomotives there are NO train or canal rides at the park.
Walking
There is a bit of walking in order to see the park's historic area. It is approximately 200 yards (the length of two football fields) from the Visitor Center to the Engine House 6 Exhibit Shelter and the Lemon House. This is an interesting stroll through an old stone quarry that was used by the Portage Railroad workers. There are signs and displays along this route. For visitors not able to walk that distance there are Accessibility options, please ask at the park visitor center. There is NO PARKING at the Lemon House or Engine House 6 Exhibit Shelter.
Weather
The Summit area is often a place of extremes. Wind is common as are temperatures much lower than those of surrounding cities. It is always prudent to dress in layers.
Pets
Pets on a 6 foot leash are welcome. They are NOT permitted in buildings and you cannot tie them to park features or facilities. Service animals, of course, are not pets and are welcome to assist their owner as needed.