Engine House No. 6 Exhibit Shelter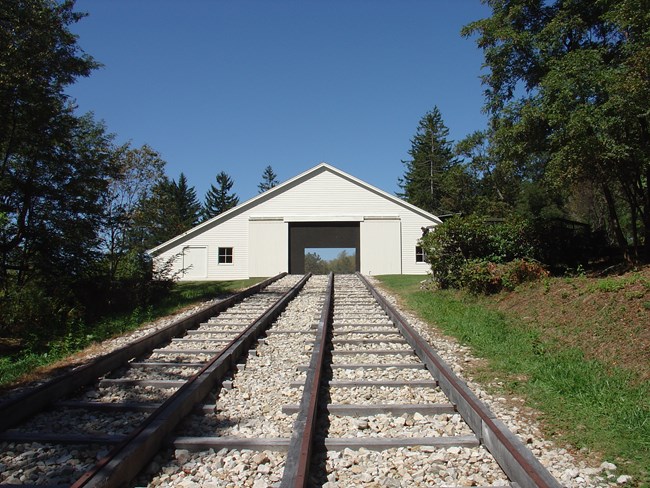 Open from 9:00 a.m. to 5:00 p.m. daily, Engine House No. 6 Exhibit Shelter can be accessed either by walking along the boardwalk or the old Gallitzin Road from the park Visitor Center. The distance is about 1/3 of a mile. Due to safety considerations, there is no vehicle parking at either the Engine House or Lemon House. Additional parking is available at the park picnic area. Accessing the historical area from the park picnic area requires a 1/2 mile hike on trails through the woods.
Self guided tours let visitors linger as long as they wish. There are panels to read, interactive exhibits, tactile exhibits, and more.
Over half of the exhibit shelter contains a reproduction of the machinery that would have been in Engine House No. 6. The displays detail the parts and workings of the building. This includes a stationary engine (not a locomotive) as well as the gears, brakes, and assorted levers that kept the tow rope in motion. The building itself is the same general shape as the original engine house but built larger to protect the original foundations; hence the name. Those foundation pieces can be seen through the metal grating that serves as flooring in the exhibit shelter.
Last updated: November 1, 2023