Lemon House Tavern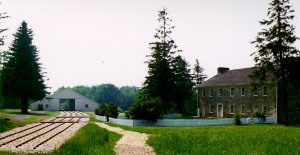 Information
Samuel and Jean Lemon were the proprietors of the Lemon House Tavern. Travelers on the Allegheny Portage Railroad would stop to get a drink, get something to eat, or just rest as their trains were being prepared for the rest of the journey on the Allegheny Portage Railroad.

Directions
You walk to the Lemon House historic tavern from the park Visitor Center either by following the boardwalk or the old Gallitzin Road. There is NO PARKING at the Lemon House. The main parking is at the park visitor center. Additional parking is available at the park picnic area. Picnic area parking requires a one half mile hike on trails through the woods to get to the Lemon House.
Tours
Self guided tours through the first floor plus the first floor exhibit room seem to be most desired. Park staff, as available, may greet visitors and guide you through the building.
For more information on the history of the Lemon House look under HISTORY & CULTURE.
Last updated: October 24, 2018