Things To Do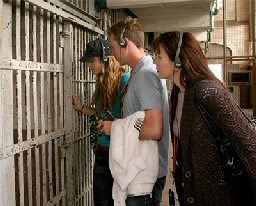 Visiting Alcatraz is partially a self guided experience which you can do at your own pace. National Park Service staff offer numerous free programs throughout the day on a variety of topics: escapes, military history, American Indian occupation, natural history, etc.
Once on the island you can stay as long or as short as you wish - there is a ferry departing about every half hour and you can return to San Francisco on any ferry. We generally recommend at least two to three hours to fully visit the island.
There are numerous videos and exhibits on the island, as well as the cellhouse audio tour which is included in the price of the ferry ticket.
On arriving at the Alcatraz dock you will be greeted by a National Park Service representative who will give you a brief orientation including information on any special activities available that day.
The evening tour differs from daytime visits in several ways. The evening ferry ride to Alcatraz circles the island with live narration about Alcatraz's history. Upon arrival on the dock, visitors receive a guided tour from the dock to the cellhouse level and also have the opportunity to participate in a number of other special tours, activities, and cell door demonstrations offered throughout the evening. Some areas of the island open during the day are not open in the evening due to safety concerns.
Generally, if you prefer to be on your own to explore you might prefer the day visit, if you prefer a more guided experience you might prefer the evening program (generally available Thursday through Monday).


Last updated: December 21, 2015