Basic Information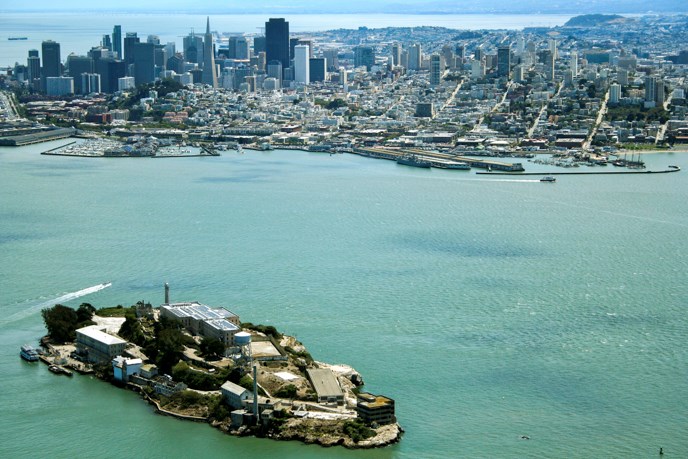 Welcome to Alcatraz Island!
Alcatraz is part of the Golden Gate National Recreation Area, which is one of more than 400 national park units across the country. Plan on spending at least a couple of hours on the island, exploring the island's particular points of interests. If time permits, consider participate in a Junior Ranger program, attend a ranger-led program, or explore any of the other locations within the Golden Gate.
Here are the basics:
The most important thing to know when planning a trip to Alcatraz is that all access to the island is through a private ferry company under contract with the National Park Service,
Alcatraz Cruises LLC
.
Hours
The hours of operation vary with the season - departures are available about every half hour throughout the day beginning at 8:45am. Evening tours and combined Angel Island - Alcatraz Island tours are also available seasonally. Alcatraz is open every day except Christmas, Thanksgiving and New Year's day. Alcatraz frequently sells out in advance, as much as a week or more in summer and near holidays. For schedules, prices, and to purchase tickets in advance please visit the Alcatraz Cruises website.
Reserving Tickets
As tickets are limited we
strongly
recommend advance purchase - in summer and around holidays we frequently sell out up to three or more weeks in advance. For schedules, prices, and to purchase tickets in advance please visit the
Alcatraz Cruises web site
or call 415-981-7625.
Weather
The weather on Alcatraz is unpredictable and liable to change unexpectedly, so be prepared by bringing along a light jacket or sweater no matter how nice the day starts out. The best advice is always to dress in layers. Wear rain gear during wet winter months. (Rain gear is available for purchase at the Island's bookstores.) Wear comfortable walking shoes with grip-type soles. Avoid wearing sandals, leather-soled shoes, high heels and open-toe shoes.
Parking
Note that there is no parking available at Alcatraz Landing. On-street parking in the Fisherman's Wharf area can be hard to find, and nearly every space has a parking meter. Most meters are time limited and unlikely to allow enough time for an Alcatraz visit.
Commercial Parking Lots - There are 15 commercial lots with a five-block radius of Alcatraz Landing at Pier 33, with a total of more than 3,000 parking spaces. The closest and most convenient lot is at 80 Francisco at Kearny, just one block away, across the Embarcadero from Alcatraz Landing. We strongly recommend using public transit to get to Pier 33, which is on the Embarcadero south of the intersection of Bay Street. The historic streetcars of the MUNI F Line run right past the Alcatraz Landing. See transit.511.org for more information on public transportation.
Accessibility
Alcatraz Landing at Pier 33 in San Francisco is fully accessible. There is limited accessible parking at Pier 33, available on a first-come, first-served basis. Individuals need to show their permanent or temporary disabled placard at the entry of Pier 33 to utilize the accessible parking spaces.
Once you arrive on the island you will be asked to listen to a short introductory announcement on the dock. The dock contains an accessible restroom facility. To your left you will find the accessible tram (S.E.A.T), which transports visitors with mobility impairments to the Cell House.
Complete information about accessible features on Alcatraz can be found here, including an ASL version of the introductory announcement.
Special Community & Youth Programs
Complimentary tickets are available for special community and youth programs. See our
Community Access Program page
for additional information.
Food
While the bookstores sell packaged, dry snacks, Alcatraz does not offer any other type of food. Bringing a lunch is encouraged; however, due to the sensitive wildlife and limited maintenance on the island, eating is restricted to the picnic area near the dock.
Last updated: September 3, 2019