Plan Your Visit
Welcome to Alcatraz Island!
Part of the Golden Gate National Recreation Area
Plan on spending at least a few hours on Alcatraz exploring the exhibits, checking out the video presentations or audio tours. Jr. Ranger books and programs are often available, and ranger tours are available every day! (Programs change according to the schedules of our busy rangers, the time of year, and other reasons for focus on certain subjects--there is no set program schedule.)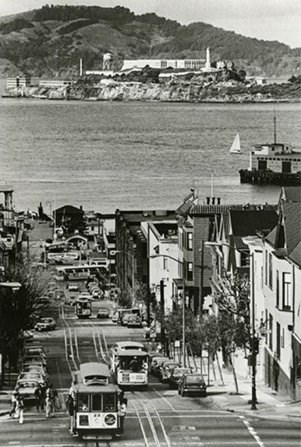 Ferry Access and Facilities
The most important thing to know when planning a trip to Alcatraz is that all access to the island is through a private ferry company under contract with the National Park Service, Alcatraz City Cruises LLC.

The other most important thing to know is that there is no food available on Alcatraz (other than dry snacks/candy from the bookstore)!
Weather
The weather on Alcatraz is unpredictable and liable to change unexpectedly, so be prepared by bringing along a light jacket or sweater no matter how nice the day starts out. The best advice is always to dress in layers. Wear rain gear during wet winter months. (Rain gear is available for purchase at the bookstores.) Wear comfortable walking shoes with grip-type soles. Avoid wearing sandals, leather-soled shoes, high heels and open-toe shoes.
Parking & Transportation
Note that there is no parking available at Alcatraz Landing.
On-street parking in the Fisherman's Wharf area can be hard to find, and nearly every space has a parking meter. Most meters are time limited and unlikely to allow enough time for an Alcatraz visit.

Commercial Parking Lots: There are fifteen commercial lots with a five-block radius of Alcatraz Landing at Pier 33, with a total of more than 3,000 parking spaces. The closest and most convenient lot is at 80 Francisco at Kearny, just one block away, across the Embarcadero from Alcatraz Landing.

We strongly recommend using public transit to get to Pier 33, which is on the Embarcadero south of the intersection of Bay Street. The historic streetcars of the MUNI F Line run right past the Alcatraz Landing. See transit.511.org for more information on public transportation.
Accessibility
Alcatraz Landing at Pier 33 in San Francisco is fully accessible. There is limited accessible parking at Pier 33, available on a first-come, first-served basis. Individuals need to show their permanent or temporary disabled placard at the entry of Pier 33 to utilize the accessible parking spaces.
Complimentary tickets are available for special community and youth programs. See our Community Access Program page for additional information.


Last updated: April 27, 2021