Nature & Science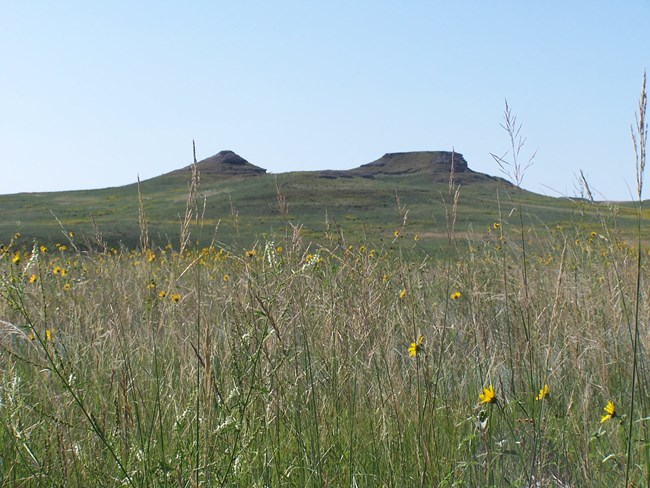 Agate Fossil Beds National Monument is nestled in the Niobrara River Valley in Nebraska 65 miles [110 km] east-southeast of its headwaters in the Hat Creek Breaks of Wyoming. The park preserves a unique unglaciated area of the High Plains. Wetlands stretch out from the river and meet terraces that lead to the breaks and buttes. The buttes contain important information about the life of mammals in the Miocene Epoch, some 20 million years ago.

The park was created to preserve these rich fossil deposits and their geological contexts amidst today's natural ecosystem. Numerous mammals, fish, amphibians, reptiles, and birds inhabit or pass through the park, undisturbed and protected. Many species of native grasses and shrubs grow across the park's landscape, as well as some undesirable non-native plants (e.g., Canada thistle) that the park does its best to control.
What Will I See?
Curious what animals and plants you may see in the park? Check out the NPSpecies database below. Click on the "specific category" box to choose which type of animal or plant you want displayed. Then, click the blue "Get Checklist" button for a quick list of information. Want more? Click the blue "Get Full List" button to get information on taxonomy, scientific and common names, occurence in the park, and native status.
Select a Park:
Select a Species Category (optional):
Search results will be displayed here.

Visit NPSpecies for more comprehensive information and advanced search capability. Have a suggestion or comment on this list? Let us know.


Last updated: July 16, 2023