Weather
Loading weather forecast...
Seasons
Spring
Foggy; 30-70 F (-1-21 C)
Wear light-colored clothing, long sleeve shirts, and long pants for protection.
Summer
Daytime: 45-90 F (7-32 C)
Ocean temperature: 50-60 F (10-16 C)
Lake temperatures: 55-70 F (13-21 C)
Summer temperatures can vary from 45 degrees to 90. Be prepared for quick weather changes from warm and sunny to cold and rainy. Weather on Cadillac Mountain and Acadia's other mountain peaks can be drastically different from temperatures in Bar Harbor or elsewhere on the island.
Fall
Variable weather; 30-70 F (-1-21 C)
Winter
Variable; 14-35 F (-10-2 C)
For the latest weather information, call 207-667-8910 or 207-288-3338.
Current Conditions
Real-Time Air Quality Web Cameras and Weather Data
Ozone Information
Air Quality Hotline: 800-223-1196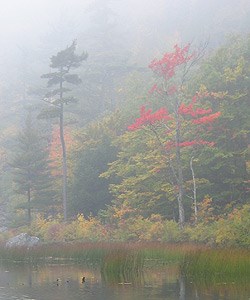 Leaf Peeping
Each fall, thousands of people come to Acadia National Park to see the explosion of color in the park's forests. The biggest question we hear in the fall is "When is the best time to see fall colors?" The peak generally comes in mid-October. To see the status of fall colors throughout Maine, visit the state's fall foliage website. The site is updated every Wednesday during the foliage season. See our Trip Suggestions for ranger recommendations on where to go to see fall foliage in the park.


Last updated: October 7, 2021