Mammals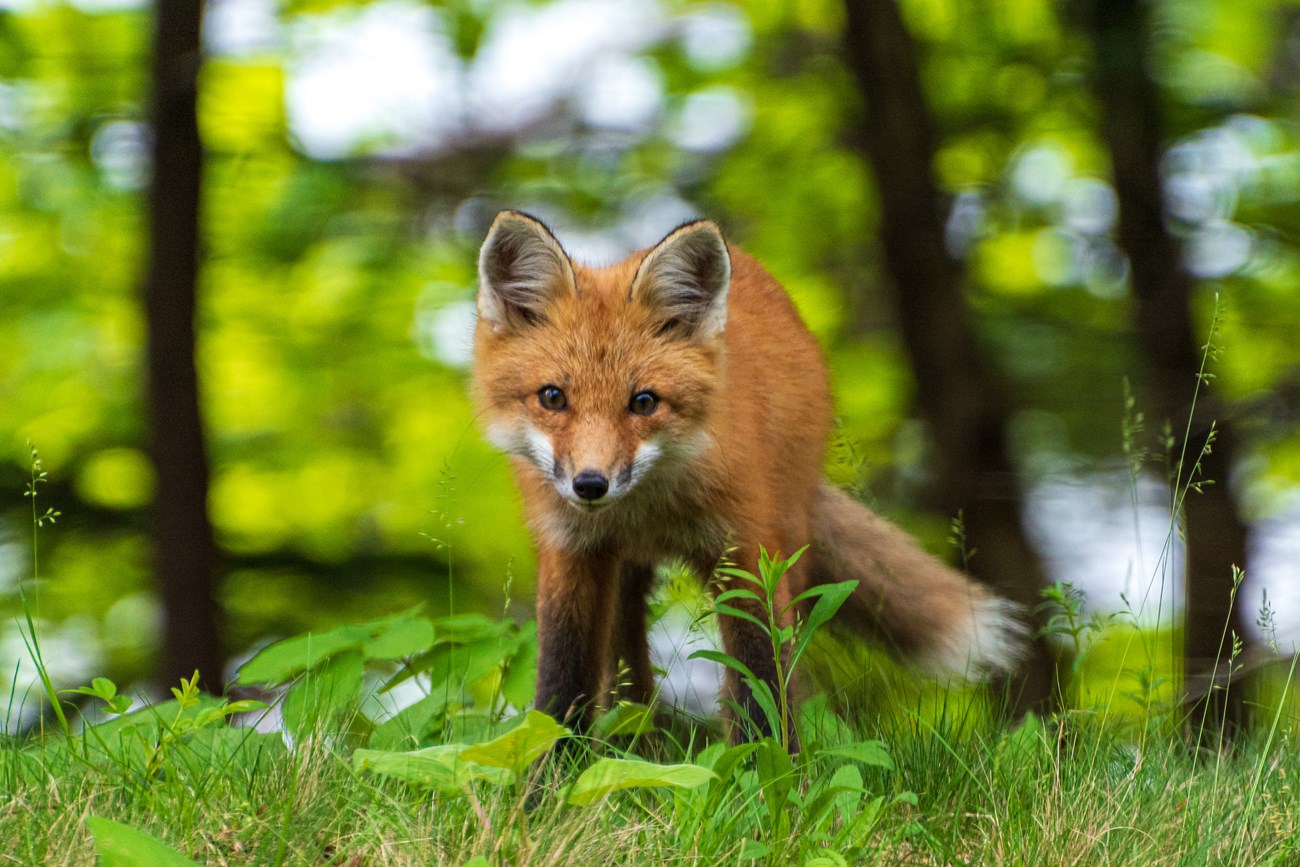 Mammal species in Acadia might not always be the easiest to find, but the park is home to a broad diversity of them. The most frequently seen are deer and squirrels, but with patience, knowledge of their habits, and a keen eye, other species can be found too. Fox, mink, otters, fishers, marten, porcupines, beavers, raccoons, bats, small rodents, coyotes, snowshoe hare, and even bobcat and have all been spotted here. Learn more about how to see animals in Acadia on the
Viewing Wildlife page
.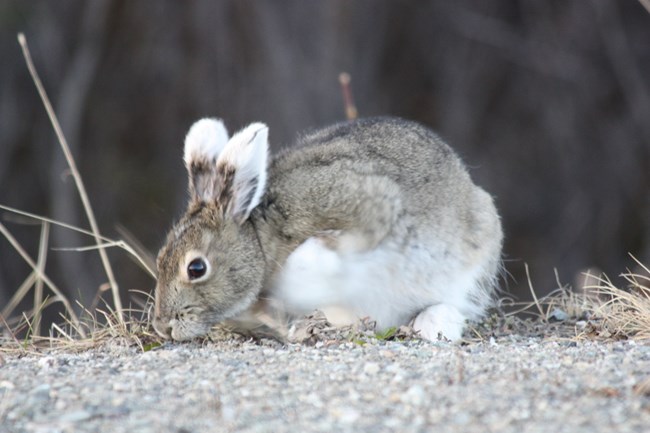 Herbivores
Acadia's largest wildlife inhabitants are in the ungulate family. This includes white-tailed deer and very rarely moose. As very large mammals that need a great deal of space, moose are rarely seen in Acadia. White-tailed deer, on the other hand, are plentiful. Your best bet to see them is at dawn or dusk around the Sieur de Monts area or along the carriage roads.

Other herbivorous animals that are often overlooked are our resident lagomorph or rabbit species. The Snowshoe Hare is very large compared to the more familiar cottontail rabbit. Snowshoe hares are well known for being brown in the summer and pure white in the winter. The best time of year to see them is during early spring and fall when their coat color is changing.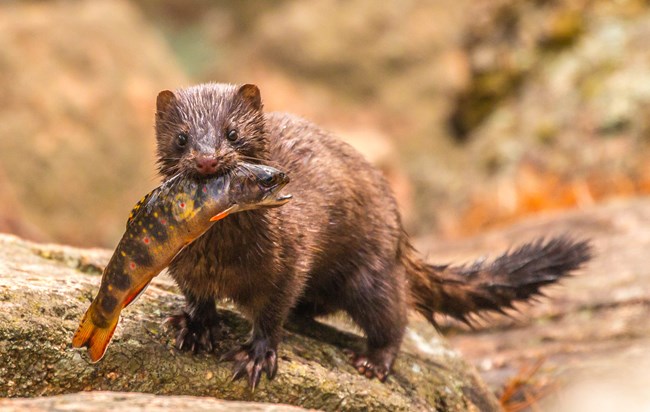 Carnivores
Though seldom seen, carnivores play an important role in the ecosystems of Acadia. With discerning eyes, signs of red foxes and coyotes are found around the park. Raccoons also reside in the park, and provide a great reason to store your food properly at campgrounds. Striped- Skunks are a nocturnal species, and are more likely to be seen at night along the carriage roads. More secretive animals like bobcats, otters, mink, fishers and pine martens live in the park as well. When hiking more remote trails in the park, keep a sharp eye out for movement to spot these park residents. Black bears are rarely seen in the park but there is a permanent year round population on Mount Desert Island. Being connected to the mainland, the Schoodic Peninsula area of the park has more frequent sightings of these secretive creatures.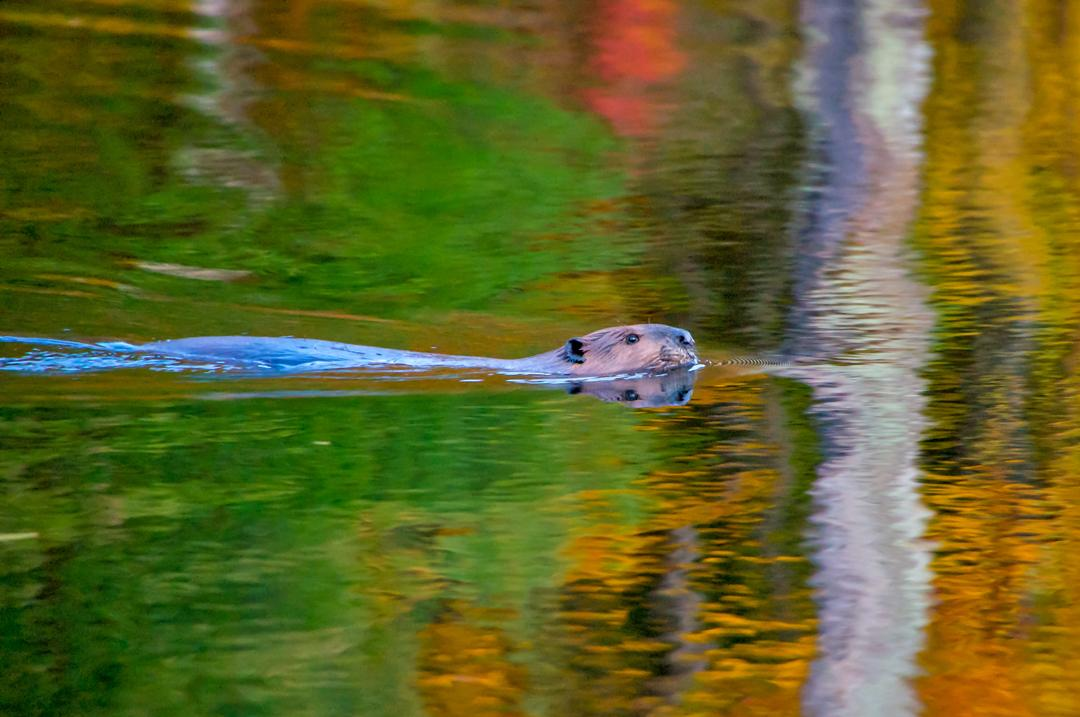 Rodents
Most people think of rats and mice when they think of rodents, but Acadia is home to more than just that! We have several species of mice as well as beaver, woodchuck, porcupine, muskrat, voles, chipmunks, squirrels, and even flying squirrels.
North American Beaver are the most noticeable species in the rodent family here. Like humans, they drastically modify their home environment by building dams and cutting down trees, creating wetlands and other habitats that are used by many other species. Walk around Jordan Pond, the Tarn or Witch Hole Pond to see chewed stumps and other signs of beaver activity. While beavers were almost trapped to extinction by the beginning of the 20th century, they've come back in force and can be found throughout the park.
Bats are an often overlooked wildlife species because they are most active when we are the least active. All night long bats in Acadia National Park are busy feeding on thousands of insects. Many of these insects are considered nuisances and bats do an excellent job in keeping their numbers down. Little brown bats and eastern small-footed bats are two of the eight species of bats that have been found in Acadia.
Today, bats are an important research species in the park because of their dramatic population decline as a result of white-nose syndrome. Bat species in Acadia National Park have decline over 80%. The park and their partners are working to understand their role in the ecosystem, where their most important habitat is, and how we can help them recover including the federally threatened Northern Long-eared Bat.
Other Mammals
Other mammal species present in Acadia include marine mammals like seals, whales, and porpoises. Intertidal creatures like sea star, lobster, and sea anenomes can also be found along Acadia's coast. The marine wildlife page is a great place to learn more about the creatures that live in the ocean around Acadia National Park.
Last updated: July 22, 2022