Beaver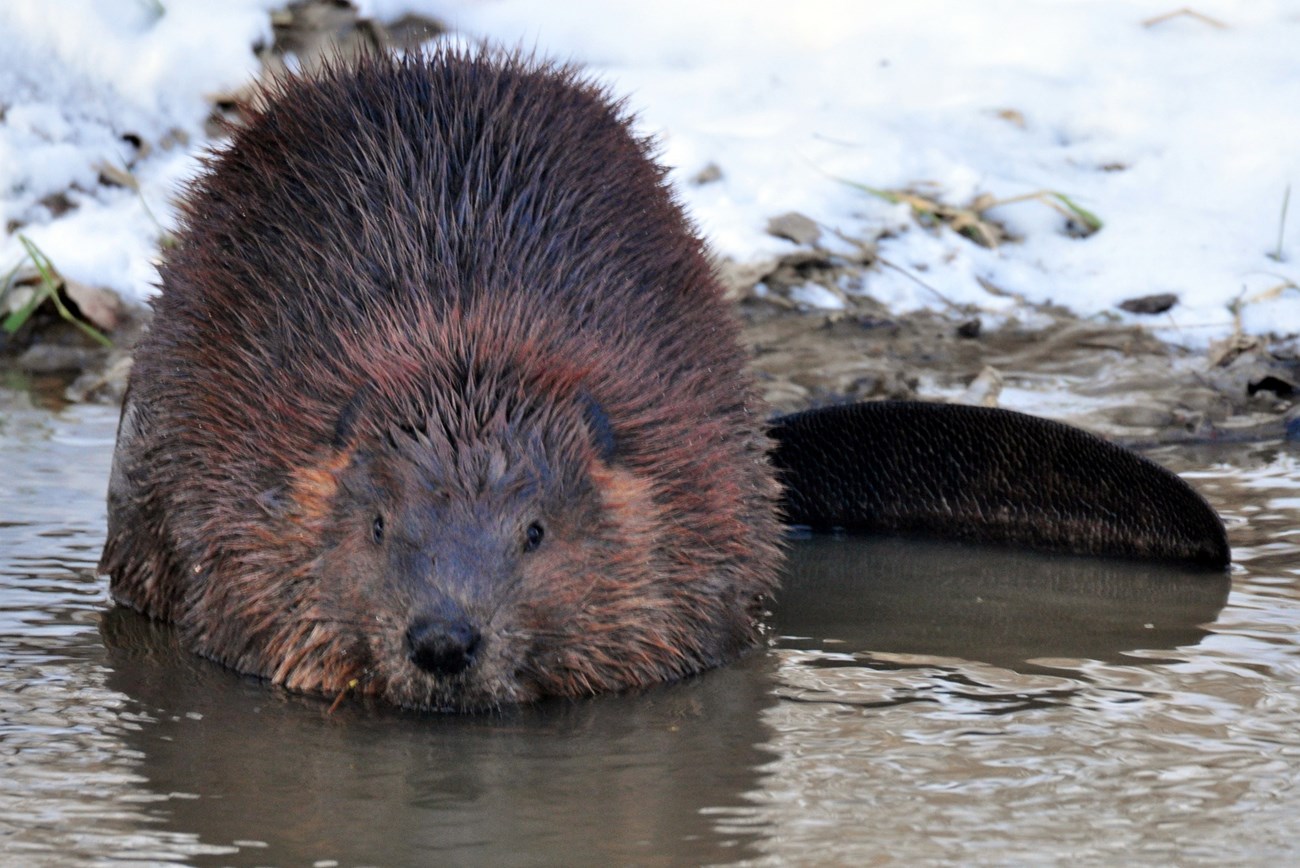 The North American Beaver is routinely found in the park in sustainable numbers. Beaver dams and lodges are regularly seen by those who visit many of the freshwater lakes in Acadia National Park. They are most often viewed around dawn or dusk.
Beavers were not always at Acadia. George Dorr, the park's first superintendent, believed it was important to bring this species back to an area that was historically theirs. The story of beavers on Mount Desert Island is a long history of reintroduction, relocation, and management. Acadia continues to manage and seek ways to maintain a peaceful coexistence between beaver and humans.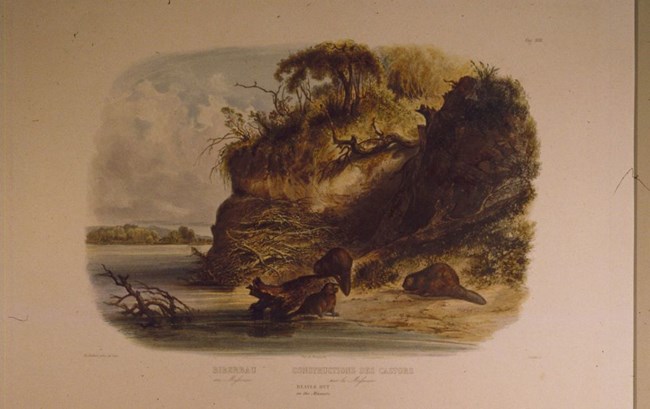 History of Beavers in North America
Early European explorers who arrived in North America in the 1600s would encounter countless numbers of beaver in lakes, rivers and ponds. The beaver population seemed endless, estimated at up to 100 million. With the rise of the fur trade industry in the mid-1600s, the beaver's fur became a valuable commodity and their numbers diminished greatly by the mid-1800s.
More than any other natural resource, the beaver was responsible for helping to establish European settlements in North America. They play a more crucial role in shaping wild landscapes, enhancing biodiversity, and fostering interconnectedness among other animals.
Reintroduction on Mount Desert Island
In the beaver's absence, it is unlikely that North America would have been explored and settled by Europeans as fast as it was. Reintroduction efforts in the late 1800s and early 1900s would help to bring back the beaver to many parts of North America. Early records of Mount Desert Island mention frequently the presence of beaver and their disappearance from the Island due to unlimited hunting and trapping by the mid-1800s. Under the direction of George Dorr, the Park superintendent, the park reintroduced one beaver in a stream in Otter Creek Valley in late autumn of 1921. The beaver did not survive the winter. In the following spring of 1922, the park introduced three more beavers on the Bubble Brook habitat. Reintroduction took hold as park rangers would find evidence of the beavers' work in the park far from the Bubble Brook area.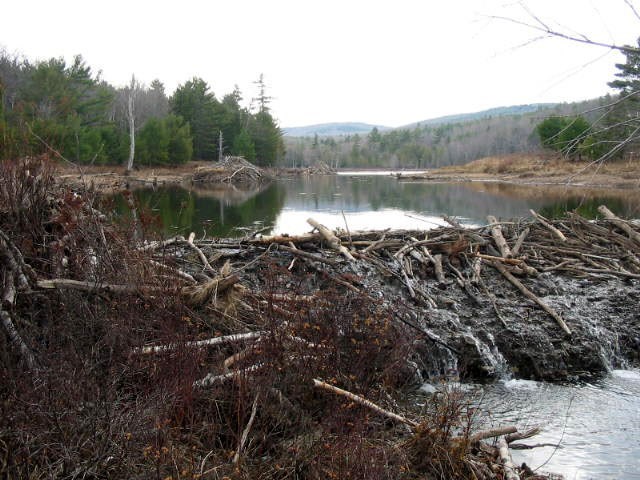 Early Management Issues
A few years after reintroduction, indisputable evidence revealed the presence of numerous beaver colonies several miles from where they were originally reintroduced. Acadia park officials implemented control measures to prevent overpopulation of the beaver which was already a growing problem by 1925. These measures consisted of trapping beaver alive and confining them to two to three colonies in a particular area. Efforts failed to contain the beaver as they would not stay in these colonies. They relocated at will, building new dams and lodges all over the park and across Mount Desert Island.
It became apparent that more drastic measures were needed. As the beaver population increased and colonies spread to other areas, it caused further damage to forests and the flooding of properties and roads on Mount Desert Island. This drew public attention and concerns by officials at the National Park Service and the Department of Interior. Residents, like John D. Rockefeller. Jr. and many others, viewed beaver as a great nuisance. Their activities of taking down trees impacted natural resources like forests and their dams caused major flooding and the submerging of roads.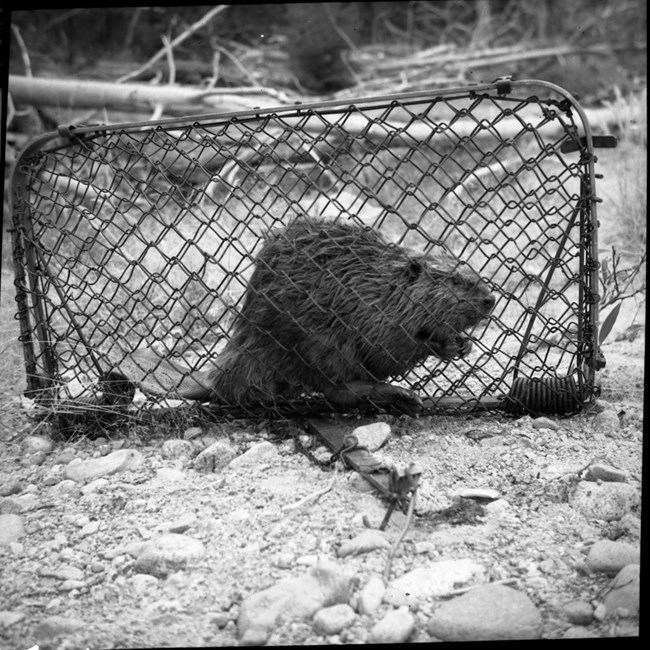 Capture and Relocation Efforts
The National Park Service directed Superintendent Dorr to take immediate steps to eliminate the beaver population from park lands and, where necessary, on private lands throughout Mount Desert Island. He authorized the capture and relocation of live beaver by state conservation departments and accredited game associations. Beaver were captured and relocated to other parts of Maine and to other states: New Hampshire, Massachusetts, New Jersey, Delaware and Virginia. The park continued its relocation efforts over a period of five years from 1925 to 1929. Seventy-five beavers were captured and relocated to other locations.
As time passed, a 1959 report named "Reduction of Beaver Colonies in Acadia National Park," describes 29 locations where beaver were present. Beaver locations were classified as green, yellow, and red denoting 11 areas where no beaver management was necessary, 15 areas where populations must be regulated, and 7 areas where they must be eliminated. Official records do not provide evidence of final disposition.
Recent Beaver Activity and Management
In 1974, 30 beaver were live trapped in Acadia and relocated by Maine conservation officials. In a 1997 comprehensive distribution study of beaver in Acadia, 34 park sites were designated as under threat by flooding from beaver-plugged culverts in 18 of the 30 watersheds surveyed.

In 2018, 18 sites of beaver conflict were actively managed by Acadia park staff. Park managers addressed immediate threats to critical infrastructure or significant resources when identified. Limited preemptive actions were taken to stop future threats. Maintaining an optimal balance between natural and cultural resources is an on-going challenge at Acadia, especially when it comes to beaver. The two most common problems with beaver are flooding that results from blocked structures, such as culverts, and damage to timber.
Last updated: March 14, 2022