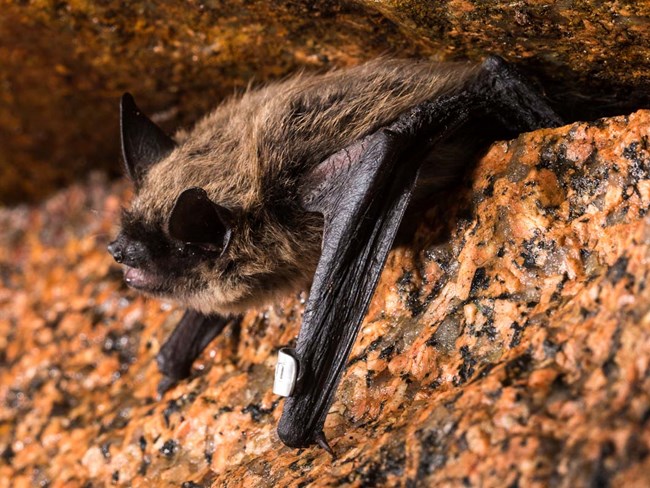 Bats are an important part of ecosystems and food webs. Though some species of bats feed on fruit, seeds, or pollen, all of the species that live in Acadia are insectivores. They consume huge numbers of insects every night, filling a unique ecosystem role as nocturnal insect predators. Unfortunately, a new disease called white-nose syndrome is affecting bats across the United States. To better protect bats, park biologists are studying how local bat populations are changing.
Research Highlights
Most bats in the park are hibernating bats that are sensitive to white-nose syndrome.
The disease has dramatically reduced bat populations and continues to infect bats.
Little brown bats and northern long-eared bats, once very common, are now rare.
Much remains to be learned about white-nose syndrome, bat biology, and bat habitat use in Acadia.
How are park biologists studying bats? What have they learned?
Biologists use a variety of techniques to study bats. Since 2008, special "mist nets" have been used to catch bats at specific sites in the park. By recording the number of bats caught each year, biologists can calculate an index of bat abundance. This index shows an 86% decline in bat populations since the arrival of white-nose syndrome in the park.