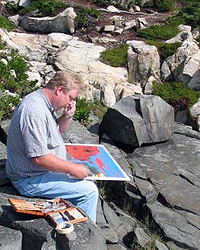 Background Information
The Artist-in-Residence (A-I-R) Program at Acadia National Park offers professional writers, composers, and all visual and performing artists the opportunity to pursue their particular art form while surrounded by the inspiring landscape of the park.

Each year, the park and its partner, the Schoodic Institute, provides housing to participants for two-week to four-week periods. Note: at this time stipends are not available.
In return, participating artists offer public programs, work with visiting student groups, and donate a representative piece of their work to the Schoodic Institute in support of the A-I-R program. These creative works are later sold or auctioned with the proceeds supporting A-I-R housing expenses and supplies.
Applying to be an Artist-in-Residence
The application period for the July 2017 - June 2018 season will open September 1, 2016 and run through February 10, 2017. To apply visit: https://uevent.com/registration?code=ZZ6NOVBTAP