Report a Wildlife Sighting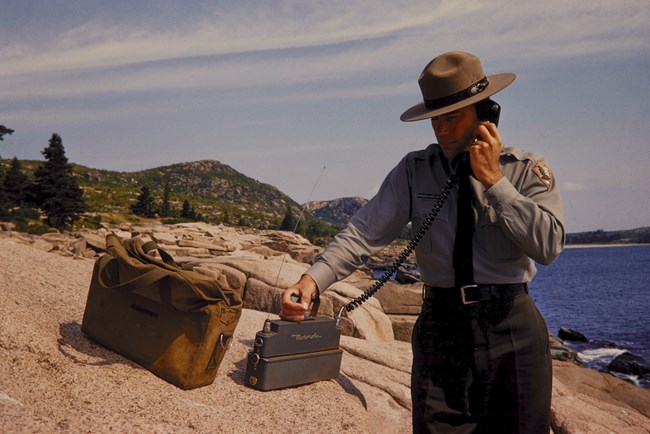 Public wildlife observations contribute to our knowledge of animals in Acadia, help park managers preserve native species and habitats, and keep animals and people safe. Always maintain a safe distance from wildlife and never attempt to feed, pet, or interact. Remember, the best relationship with wildlife is a long distance one.

There are differences between every day wildlife observations and those that should be reported to the park.
What Not To Report?
You can engage in citizen science and use naturalist tools like eBird or iNaturalist, to record your wildlife observations. Check out the National Park Service Citizen Science website or CitizenScience.gov to join a citizen science project and join your fellow citizens in contributing to the scientific knowledge of the park.

Common 'false flag' wildlie sightings include a baby deer by the side of the road or in a meadow or a seal basking on a beach. Seals and other animals commonly sun themselves on rocks to warm up and seal pups often rest on the shore, away from predators, while their mothers hunt for food.
---
What to Report?
Emergencies
Dangerous encounters with animals in Acadia are rare, but can happen. Report any conflicts with wildlife to a ranger. In an emergency, dial 911.
Invasive Species
Park scientists and managers closely monitor non-native plants and animals in Acadia. Some of these species are considered invasive and pose a threat to Acadia's ecosystem. Your report can help slow diseases and preserve Acadia's wildlife.
Rare Animals
Acadia is home to more than 350 species of animals. Some are seen everyday, and others may roam for years before meeting a human. And just like people travel to Acadia, so do new animals. As the climate changes and habitats shift, we may see more unexpected animals here.
---
How to Report
Go to Hulls Cove Visitor Center, or find a nearby park ranger.
Call us at (207) 288-3338
You can also report Marine Wildlife by calling Allied Whale, the region's marine mammal stranding response organization, at (207) 288-5644.
Please include specific details about your sighting, including the specific place, time, and date.
Last updated: August 14, 2023