Understanding the Changing Nature of Acadia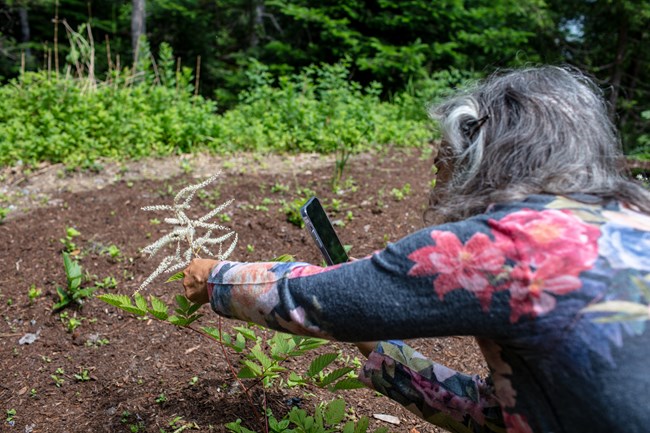 Help us learn more about how Acadia is changing, and how we are responding to change, by documenting and sharing the animals, plants, fungi, and lichens you encounter using iNaturalist and eBird. Scientists can't be everywhere all the time. By submitting records to these platforms, you expand global databases of biodiversity while helping us protect Acadia.

How do park managers and scientists in and beyond Acadia use the data you contribute? Here's just a few examples:
to evaluate how biodiversity is changing as a result of reconnecting water flows in Great Meadow.
to measure the success of vegetation restoration on Cadillac and other mountains.
to understand how plant and animal populations are changing by comparing contemporary and historical records.
to locate specific species that are the focus of research, such as sea stars, eiders, or three-toothed cinquefoil.
Join us, and become part of
a long legacy
of people paying attention to the nature of Acadia, and provide information that will be valuable to future generations.
Be apart of Acadia's Science Story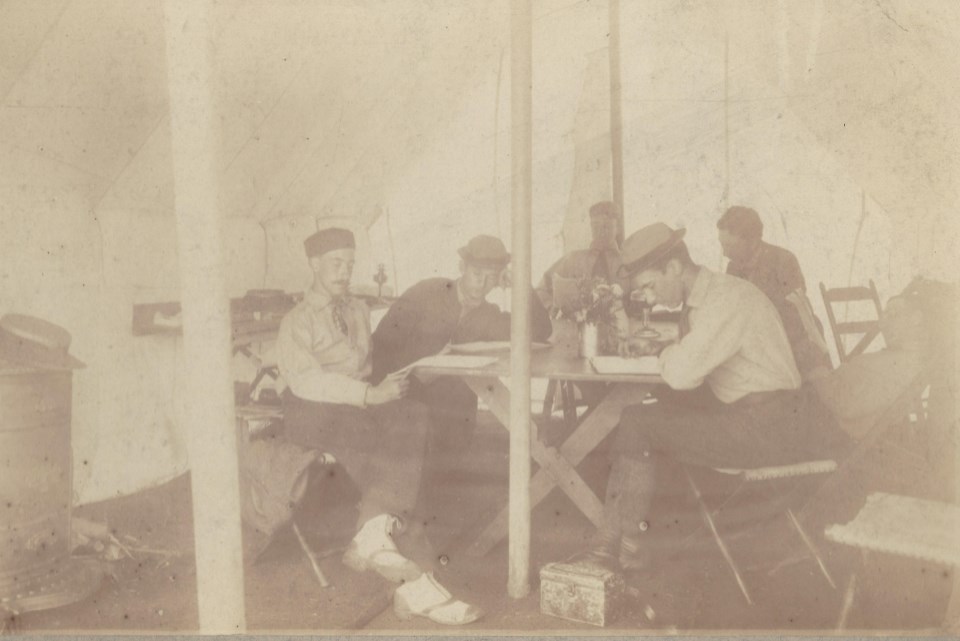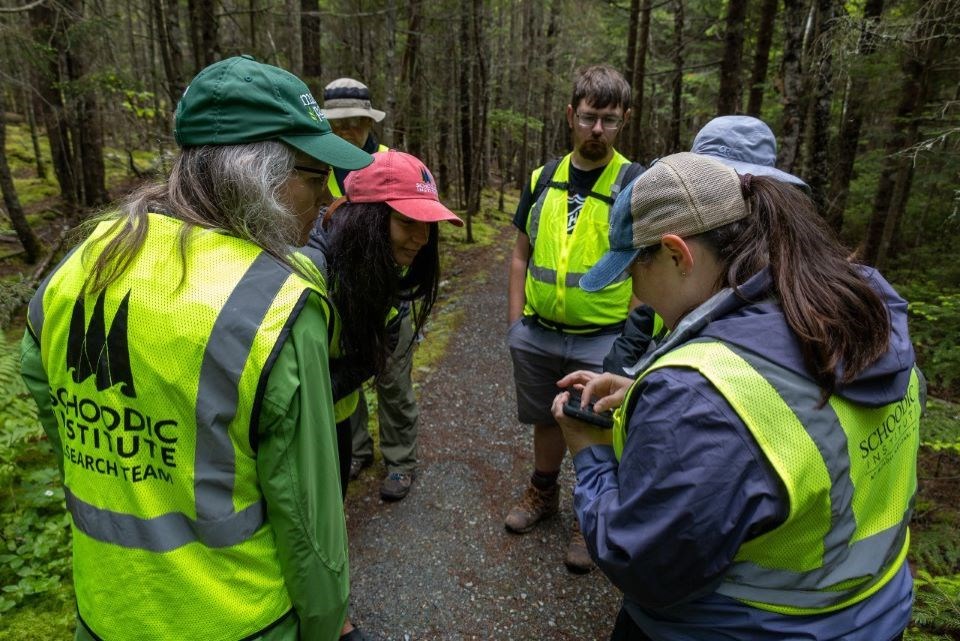 Left image
Members of the Champlain society document their day's findings in journals.
Credit: Image courtesy of Mount Desert Historical Society
Right image
Bioblitz participants gather around to discuss their collection of images from the day
Credit: Image courtesy of Schoodic Institute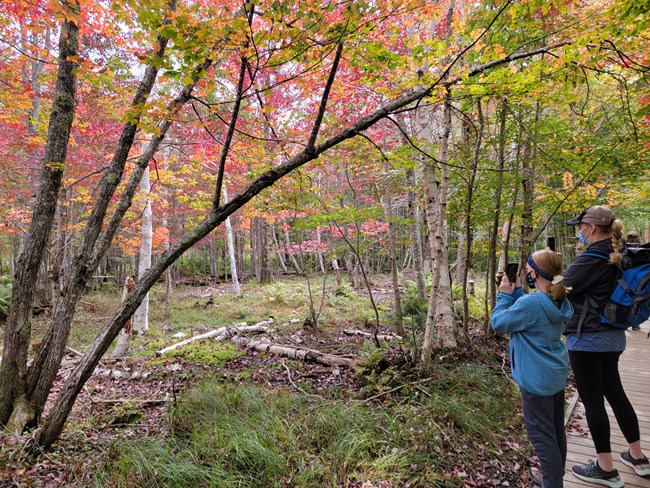 How does it work?
Both eBird and iNaturalist are Internet-based platforms that can be accessed from a mobile device or desktop computer. Your records automatically become accessible to park managers and are available for researchers to answer questions about our changing world.

iNaturalist is primarily photo-based, and encompasses plants, animals, fungi, etc. Users submit a picture of an organism, along with the date and location of when and where it was seen. Users suggest an identification and other iNaturalist users then refine and confirm the identification, making the observation "research grade" and available to scientists around the world. For those just getting started, the mobile application Seek can be a helpful learning tool that is connected to iNaturalist. Some people use iNaturalist to keep a record of their own personal observations over time or in a specific place, others use it to improve their identification skills, and still others use it to connect with other nature enthusiasts.

Bird observations can be submitted to iNaturalist, but eBird is specifically for birds. You can track your bird sightings throughout the year and from year to year, learn where and when to find birds, and connect with other bird enthusiasts. For those just getting started, the mobile application Merlin can be a helpful learning tool that is connected to eBird.
Past Citizen Science Efforts in Acadia
Since 2003, the National Park Service has hosted a series of field events to help document the biodiversity of Acadia National Park. Over the course of 24 hours during each BioBlitz event, biologists and naturalists conduct a rapid assessment of a specific group of invertebrates. While BioBlitzes cannot provide a complete inventory, they can document species occurrence, provide estimates of species richness, and identify rare and unique species.
The goals of Acadia National Park's BioBlitz program are to:
build upon a legacy of past natural history studies;
develop new science partnerships with science institutions and organizations;
increase awareness and excitement about the park's biodiversity, and;
establish new baseline information about little-known plants and animals.

The park has conducted the following citizen science events in the past:
2015 (Hymenoptera and Myriapoda)

Beetles- 2013, 2014
Aquatic Insect Blitz - 2012
Moth and Butterfly (Lepidoptera) Blitz - 2011
Hymenoptera Blitz - 2010
Minor Order Blitz - 2009
True Bug (Hemiptera) Blitz - 2008
Spider Blitz - 2007
Fly (Diptera) Blitz - 2006
Beetle (Coleoptera) Blitz - 2005
Moth and Butterfly (Lepidoptera) Blitz - 2004
Ant (Formicida) Blitz - 2003
More About Citizen Science in Acadia
Last updated: March 29, 2023