Rachel Panitch
Visit our keyboard shortcuts docs for details
Duration:

3 minutes, 32 seconds
Ambedo, by Rachel Panitch, Composer-in-Residence, 2018, Acadia National Park, Maine. Recorded by Cardamom Quartet, 2018: Lisa Goddard, Rachel Panitch, Gillian Gallagher and Ariel Friedman.
Ambedo was written as a part of a residency at Acadia National Park, in particular, inspired by time spent at Isle au Haut. The title comes from John Koenig's Dictionary of Obscure Sorrows, a collection of invented words for shared human experiences. His definition for ambedo is: "a kind of melancholic trance in which you become completely absorbed in vivid sensory details — raindrops skittering down a window, tall trees leaning in the wind, clouds of cream swirling in your coffee — briefly soaking in the experience of being alive, an act that is done purely for its own sake."

I was lucky enough to stay during two different seasons and at three different areas of the park during my residency: Isle au Haut, Schoodic Peninsula, and Brown Mountain Gatehouse on Mount Desert Island. Each inspired very different music, even when I wrote for some of the same instrumentation: a number of fiddle tunes for violin & guitar, pieces for violins & vibraphone, and pieces for string quartet.

– Rachel Panitch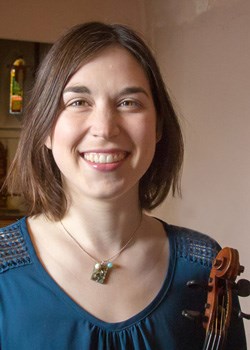 Rachel Panitch is a Boston-based violinist, improviser, composer, and teaching artist. Rachel performs Classical music with the Cardamom Quartet, is a dance fiddler with French Roast, and improvises with audiences as a part of Thread Ensemble (a trio of violins and vibraphone). Rachel's fiddling and compositions can be heard on a PBS Utah Bucket List episode, which was filmed during her 2014 residency in Zion National Park. She was chosen as a 2015-2017 Jubilation Fellow, a national award recognizing "individuals with an exceptional talent for helping young people feel fully alive through rhythm." Rachel received her Masters of Music in Contemporary Improvisation from New England Conservatory. Visit her website, http://www.rachelpanitch.com/
Last updated: January 7, 2020