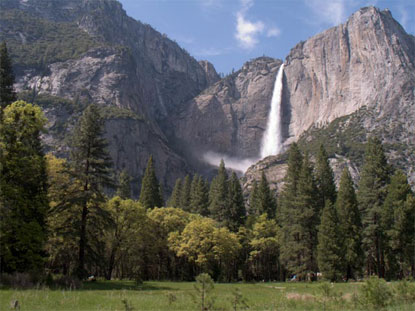 Spring
(April & May)
The perfect season for waterfalls!
Areas to visit: While Yosemite Valley and Wawona remain accessible by car all year, the Tioga and Glacier Point Roads remain closed due to snow, often until late May (see a list of opening dates since 1980). Tire chains sometimes are required even during spring. When they are, you should carry and know how to use them, regardless of the type of vehicle you are driving.
Weather: Highly variable, with sunny and relatively warm days, but still an occassional winter storm.
Yosemite Valley & Wawona (4,000 ft / 1,200 m): 69°F (21°C) / 39°F (4°C)
Rivers & Waterfalls: As warmer weather begins to melt the snow, even the smallest creeks are rushing with water. You may see many small, unnamed waterfalls and cascades all along the Valley rim. Larger creeks and rivers, along with the better known waterfalls, tend to reach peak runoff in May or June.
Wildflowers: It's too early for wildflowers in the park, though you might see California poppies and other species at lower elevations on your way to Yosemite. Redbud and dogwood also tend to bloom in May.
Hiking: While most of Yosemite remains snowy through May and into June, some hikes from Yosemite Valley, Wawona, and Hetch Hetchy are often snow-free by April, and most are usually snow-free by sometime in May. However, as in winter, backpacking options are very limited.


Tioga Road Opening & Closing

Find out when the Tioga Road opened and closed each year since 1980 Read More

Detailed Climate Data

Find detailed climate data for Yosemite Valley from the Western Regional Climate Center Read More

Current Conditions

Find out current conditions and facilities information Read More