Visitor Access Management Plan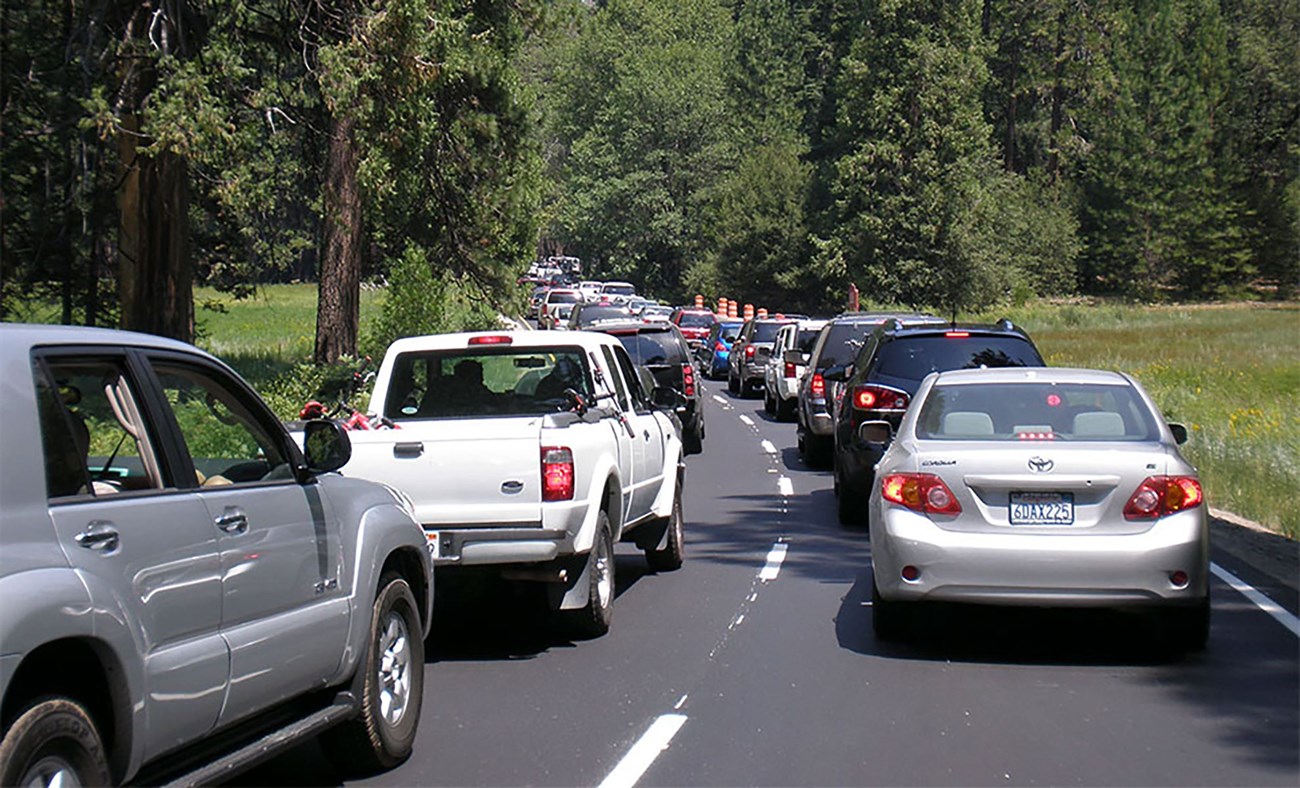 Overview
Ensuring world class experiences, a welcoming environment for all visitors, and protection of nationally significant resources is Yosemite National Park's primary and daily focus. Due to an increase in day-use visitation and changing use patterns, providing for and managing visitor use has been an increasingly complex issue that impacts both park resources and the visitor experience.
The purpose of this plan is to evaluate how different management strategies, including reservation systems, could help meet long-term resource and visitor experience goals. This will be accomplished by engaging in a transparent civic and stakeholder engagement process to discuss and identify key issues and opportunities.
The park also plans to build on lessons learned during the reservation systems from 2020-2022, while considering a range of strategies to address crowding and congestion and improve the visitor experience and resource conditions within the park. We piloted reservation systems for the last three summers. In 2020 and 2021, the park piloted a reservation system due to the pandemic. In 2022, the park implemented a "peak hours" reservation system due to extensive construction that was going on throughout the park. Data gathered during this three-year period will help inform park management on a range of alternatives to provide for the highest quality visitor access in the future. 
As was announced in November 2022, Yosemite will not implement a reservation system for the summer of 2023. However, the park did require reservations for the last three weekends of February 2023. 
Horsetail Fall: February 2023 Reservation Requirements
Horsetail Fall can glow orange when it's backlit by sunset, which can make it appear to be on fire. This unique lighting effect happens only on evenings with a clear sky when the waterfall is flowing and when the sun is at the right angle in mid– to late February. This event attracts many visitors to a small area, causing traffic congestion, parking issues, safety concerns, and impacts to natural and cultural resources. In order to manage this event, a reservation was required for entry to Yosemite February 10–12, February 17–19, and February 24–26, 2023.
Planning Process and Timeline
The initial public comment period for the Visitor Access Management Plan was December 9, 2022–February 3, 2023. This was the first phase of a three-phase process during this planning effort. The anticipated schedule for project milestones and additional opportunities for public review and input are as follows:
Phase 1 (Tentative Dates: October 2022–August 2023):
Define Purpose, Need, and Issues
Document existing conditions, review data from previous studies
Explore desired conditions
Determine relevant indicators and thresholds
Engage with public stakeholders on issues and values (winter 2022/2023)
Public and stakeholder review of draft strategies (tentatively summer 2023)
Phase 2 (Tentative Dates: September 2023–May 2024):
Explore viable concepts and strategies
Assemble concepts and strategies into preliminary alternatives
Preliminary impact analysis
Visitor capacity analysis
Phase 3 (Tentative Dates: May 2024–December 2024):
Confirm alternatives for analysis
Develop draft plan and initiate compliance
Public and stakeholder review of draft plan (tentatively spring 2023)
Complete consultation and compliance
Finalize plan and decision documentation
Public Outreach
Engaging with the public is an important part of this planning process and is essential when exploring management alternatives. Park managers will accept and integrate feedback received from the public during the first open comment period. Comments gathered during that period will help the park identify issues important to managing Yosemite visitor access in the future.
Stay up to date on this planning process! If interested, sign up to receive updates.
How can I participate?
Step 1. Learn about the issues
On this page you can review a storymap and other materials (as they become available) to help you learn about the park, the planning process, and the issues that this plan is designed to address.
Step 2. Join the Conversation!
We know that your experience of Yosemite National Park is important! Whether you come to the park every week, or have yet to visit, we want to hear from you during the open comment periods.
Public Meetings
During the first phase of this planning effort we held a virtual public meeting on January 17, 2023, at which park staff provided an overview of the planning process, described how to provide public comments, and hosted a question-and-answer session.
| | | |
| --- | --- | --- |
| EVENT | DATE | TIME |
| | Tuesday, January 17, 2023 | 4:00 pm to 5:30 pm PT |
Visit our keyboard shortcuts docs for details
Duration:

1 hour 34 minutes
On January 17, 2023, Yosemite hosted the first public meeting for the Visitor Access Management Plan. This is a recording of the meeting in which the public was able to learn about the plan and how to get involved in the planning process.
Documents
Documents will be posted here as they become available.
Frequently Asked Questions
Why is this plan needed?  
The park has seen increasing impacts to natural and cultural resources, diminished quality of visitor experiences, increased visitor and staff safety concerns, and a heavy strain on the park's facilities and ability to perform daily operations.  The NPS believes that managed access and related strategies are needed in high-demand areas where other strategies have not been sufficient to ensure high-quality experiences, visitor safety, and resource protection.  
What is managed access? 
Managed access is a suite of tools that help pace the timing and volume of visitation into areas to optimize access, ensure quality experiences, and protect resources. Examples of managed access include reservation systems, timed and ticketed entry, campground reservations, and more. Some examples of managed access strategies that have been in place for many years include wilderness and Half Dome permits. Managed access and related strategies are not a standalone solution. This plan will carefully evaluate many different tools and techniques that would be most effective to help Yosemite improve how visitors get to and experience the park's significant resources and features.     
How will the plan be developed? 
This process will leverage the park's extensive planning, including previously identified capacities for many areas of the park and related infrastructure updates (e.g. intersection realignments, meadow protection curbing, parking additions, and circulation improvements). This process will consider key issues related to visitor experiences, natural and cultural resource protection, and vehicular crowding and congestion. The planning process will provide recommendations for supporting high-quality public access to the park while providing positive visitor experiences and protection of natural and cultural resources into the future.  
When will public input occur? 
The first opportunity for public input will be from December 9, 2022 through February 3, 2023, when we'll initiate a civic engagement series to solicit public and community feedback about strategies for managing visitor access in order to inform this process. This will be the first of multiple opportunities over the two-year planning process for the public and stakeholders to share input on how Yosemite should, if at all, manage access in the future. We are committed to a transparent civic and stakeholder engagement process. When it comes to visitor use management decisions at NPS, we know that engagement is about mobilizing people to do the hard work of making change—together. Yosemite is committed to engaging with all stakeholders—including gateway communities, partners, members of the public, and state, local, and tribal governments —to identify solutions, and to conduct compliance and planning processes. 
StoryMap
Last updated: May 16, 2023