Wawona Meadow Loop (easy)
3.5 miles (5.6 km) loop; 2 hours [leashed pets allowed]

Begin at the Wawona Hotel
Walk across the Wawona golf course on the paved road. Once across the golf course, take the first left onto the unpaved fire road that loops around the meadow.
Read more about wildflowers in this meadow.
Swinging Bridge Loop (easy)
4.8 miles (7.6 km) loop; 2 hours
Begin at the Wawona Store parking area
Follow Forest Drive, the paved road, two miles upstream from the store to the Seventh Day Adventist camp. At the camp, bear to the left onto a dirt road and continue a half-mile to Swinging Bridge. Cross the bridge and bear left onto the trail that becomes a dirt road, then paved Chilnualna Falls Road. This road will take you back to the Pioneer Yosemite History Center. Walk through the history center and its covered bridge to return to the Wawona Store.
Download a self-guiding trail brochure for the Pioneer Yosemite History Center.
Wawona to Mariposa Grove (strenuous)
12 miles (19.2 km) round trip

Begin at Wawona Hotel
The trail begins behind the last uphill building of the Wawona Hotel (Moore Cottage). Look for the trailhead 50 yards uphill marked by the sign "Two Hour Trail Ride."
Shuttle service between the Mariposa Grove and Wawona is no longer available effective July 6, 2015.
Alder Creek (strenuous)
12 miles (18.7 km); 6 to 8 hours
Begin 0.4 miles up Chilnualna Falls Road
The trail begins across the street from the parking area at the "Backcountry Use" sign and leads uphill north through an open pine forest with abundant manzanita growing on drier slopes.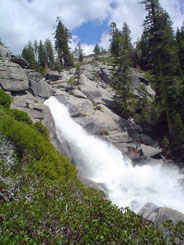 Chilnualna Falls (strenuous)
8.2 miles (13.1 km) round-trip; 5 hours. 2,400 feet elevation gain
Begin at Chilnualna Falls parking area, two miles up the Chilnualna Falls Road
The trail leads from the bottom of the parking area and along cascading Chilnualna Creek for a half mile (0.8 km). A series of switchbacks then lead away from the creek into the open forest, where you'll get views of the Wawona area.