Waterfalls, Old-growth Forests, Historic Landscapes While the primary focus for Whiskeytown visitors is water recreation the park also contains cool rugged canyons, forests, streams and waterfalls. What a perfect way to see abundant wildflowers in the spring, experience the glory of fall colors or catch a glimpse of the past as well as view wildlife in their natural habitat. Mountain trails along shaded corridors and eight year-round creeks offer a refreshing break from the summer's heat.
Whether hiking, backpacking, mountain biking or horseback riding - the land surrounding Whiskeytown provides many opportunities for these activities.
For a listing of all of our trails click here. Individual trail guides are also available (see below) or at the Visitor Center. Check with the Visitor Center for current trail conditions.
Summers can be hot and dry. Consider hiking in the early morning to avoid the heat of the day.
Winters can be cold, with possible snow and/or ice. Always be prepared for changing weather conditions and stay on established trails.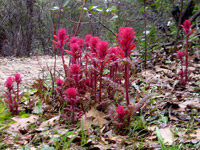 NPS photo - 2005
Easy Hikes -
(prints 8½" x 11" color in pdf format)
Buck Hollow
Camden Water Ditch
Crystal Creek Water Ditch
Crystal Creek Falls
Oak Bottom Water Ditch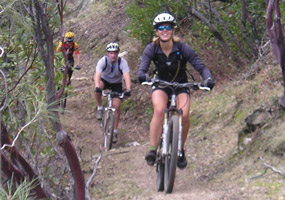 Redding Mountain Biking - 2005
Moderate Hikes
Boulder Creek Falls (via South Shore Drive)
Boulder Creek Falls (Mill Creek Road access)
Brandy Creek Falls
Clear Creek Canal
Clear Creek Vista
Davis Gulch
Guardian Rock
Logging Camp
Lower Brandy Creek
Mt. Shasta Mine Loop
Mule Mountain Pass
Peltier Trail
Salt Creek Loop
Salt Gulch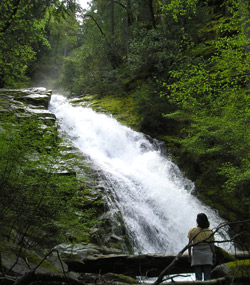 NPS photo - 2005
Moderate to Difficult Hikes
Mill Creek
Kanaka Peak
James K. Carr Trail (Whiskeytown Falls)
Papoose Pass Trail
Rich Gulch Trail
Proper equipment, good conditioning, and a
healthy regard for weather and wilderness
conditions will serve to enhance your visit.
Stay on established roads and trails and notify
someone of your travel plans.