Pierce Stocking Scenic Drive will not open until Memorial Day Weekend

Changes to visitor service due to Sequestration. Due to mandatory, across-the-board budget cuts, some visitor services in this park have changed. Pierce Stocking Scenic Drive will not open until Memorial Day Weekend and will close after Labor Day. More »
Some restrooms and trash cans not available until Memorial Day

Changes to visitor service due to Sequestration. Other than those at the visitor center and campgrounds, restrooms and trash cans will not be available until Memorial Day Weekend and will close after Labor Day. This includes the Manitou Islands. More »
Plan Your Visit
Sleeping Bear Dunes National Lakeshore is located in Northwestern Lower Michigan along the shores of Lake Michigan. The visitor center is in Empire, MI about 25 miles from Traverse City. Most people visit the park via car, but you can fly to Traverse City and rent a car to drive to the park. Take a look at our directions page for driving or flying information to the Park.
---
Changes to visitor service due to Sequestration

Due to mandatory, across-the-board budget cuts, some visitor services in this park have changed.
Pierce Stocking Scenic Drive will not open until Memorial Day Weekend and will close after Labor Day.
Ranger programs, including environmental education programs for school groups, will not be available until Memorial Day Weekend and will cease after Labor Day.
Other than those at the visitor center and campgrounds, restrooms and trash cans will not be available until Memorial Day Weekend and will close after Labor Day. This includes the Manitou Islands.
Mowing of picnic areas and historic farmsteads will be sharply reduced.
These actions are expected to affect over 250,000 visitors to the park, including 10,000 school children.
---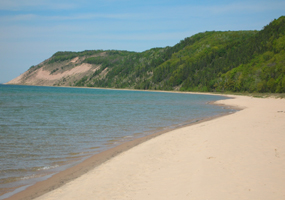 Kerry Kelly 2005
You will find a wide variety of activities for every age available to you at the Lakeshore. Climb the Dunes, swim at one of the many beaches, or take a hike through the Maple/Beech forest to some beautiful overlooks. Maybe you will want to spend some time in the museums or tour Port Oneida to learn about the rich history and culture of the area.
Whatever you plan to do while you are here, you will want to plan enough time and to bring appropriate clothing and equipment. Browse the things to do pages to get more details.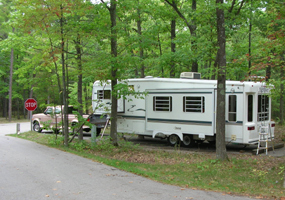 Kerry Kelly 2005
If you are planning to stay for a few days, you can look for accomodations or places to eat in the area by looking in the things to know before you come pages. If you are bringing a pet, you'll want to review the pets page. Download a park map or brochures to prepare for your visit.


Did You Know?
In the US, invasive species are the second biggest threat to native ecosystems after habitat loss.  They reduce diversity, alter disturbance regimes, and have cascading effects on food webs, costing upwards of $140 Billion per year. More...