Please read important park alerts by clicking the red tab above before you come to the parks.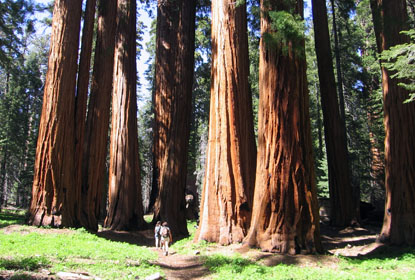 NPS Photo
Maps are recommended for longer or unpaved trails. The Sequoia National History Association offers park trail maps at each of park visitor centers or you may purchase them ahead of time online.
Learn more about general safety and trail safety in preparation for a safe, enjoyable visit.
Paul Sheehan
Foothills Day Hikes
Summer is hot and dry time in the Foothills. But in wet years, there may still be plenty of water in Marble Falls or along the Middle Fork Trail. Watch out for poison oak and rattlesnakes. Consider hiking early in the morning or in the early evening hours to escape the heat of the day.
Richard Thiel
Giant Forest & Lodgepole Day Hikes
Giant sequoias, cool conifer forests, sun-splashed meadows, and exhilarating vistas are all available in the Giant Forest/Lodgepole area. Climb the historic staircase on Moro Rock to see the Great Western Divide.
NPS Photo
Grant Grove Day Hikes
Sequoias, easy trails, and solitude are all available on trails in the vicinity of bustling Grant Grove Village. Maps and guidebooks are available at nearby visitor centers—along with helpful rangers.
NPS Photo
Cedar Grove Day Hikes
Looming granite walls, great vistas, quiet rivers, pleasant waterfalls—some of the most level hikes in the parks can be found here as well as some of the most steep, hot, and strenuous. There is something for every hiker in the Kings Canyon.
Richard Thiel
Mineral King Day Hikes
Cooler temperatures and dramatic mountain scenery tempt day hikers up to Mineral King. Be prepared for steep trails and thinner air. West- and south-facing slopes can still be hot and dry, so bring plenty of water and sunscreen. Consider beginning your hike in in the morning when it is cooler.