Partial Park Closure Due to Hazardous Conditions

Rancho Sierra Vista/Satwiwa re-opens 5/14/13, with restrictions (sunrise to sunset, not all trails). Sandstone Peak & Mishe Mokwa trails will also open, as will Backbone Trail east of Point Mugu State Park boundary. Point Mugu backcountry remains closed. More »
Trucks on Cheeseboro Canyon Trail

Occasional truck traffic (approx 6 trips per day) will take place on Cheeseboro Cyn Trail weekdays between 8am & 4pm for demolition and removal of Cheeseboro Tank. Should be completed by 5/24/13. Check back for updates or call 818-889-8996. More »
Things To Do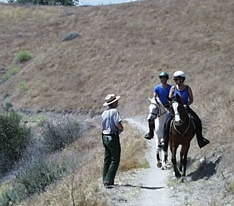 Oh! There are so many things to do.
The Santa Monica Mountains rise above Los Angeles, widen to meet the curve of Santa Monica Bay, and reach their highest peaks facing the open ocean. The land is beautiful and diverse. The rugged coastline offers narrow sandy beaches and rocky shores. Dense chaparral and fragrant sages cover the canyon walls. Inland, lone valley oaks accentuate the grassy hillsides.
There are many things to do from hiking, camping, mountain bike riding, and anything and everything in between.
Whether you are a visitor from out of town or life-long local, explore this one of a kind national park.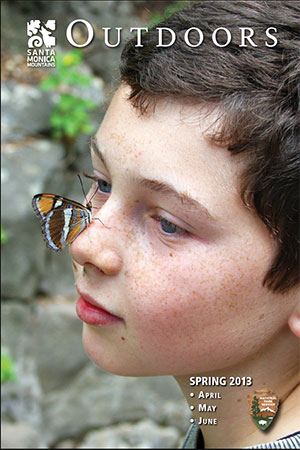 Make the most of your OUTDOORS experience in the Santa Monica Mountains:
Download your own pdf copy of the events calendar below to search for National Park Service programs in the recreation area.
April, May, June 2013 (3.63 MB)
The Santa Monica Mountains Fund sponsors the development of the OUTDOORS. You can request a printed version by contacting our visitor center at 805-370-2301.
You can also request to be on the mailing list here.
Did You Know?

Comprising 153,075 acres, Santa Monica Mountains National Recreation Area is the world's largest urban national park. It has more area codes (5) and zip codes (26), including the notable 90210 zip code of Beverly Hills, than any other unit in the National Park System.