2013 Fire Restirctions

Due to high fire danger, fire and smoking restrictions are now in effect on all National Park Service land in the Santa Monica Mountains National Recreation Area. For details, please download the public notice or call 805-370-2301. More »
Update on Park Closures

All NPS trails are open at Rancho Sierra Vista/Satwiwa! Currently, this park site is only open sunrise to sunset.
Climbing
The Santa Monica Mountains close proximity to Los Angeles has made it a preeminent destination for rock climbers of all skill levels. Local crags, from Echo Cliffs to Malibu Creek State Park, increase in popularity every year. With this in mind, the National Park Service and outdoor enthusiasts must work together to ensure these spots remain enjoyable and unimpaired for future generations.
Here there is something for everyone to enjoy. Unique volcanic geology, various plant communities, wildlife viewing possibilities, and world class climbing opportunities all await those visiting from afar or those on day trips from the surrounding Ventura and Los Angeles areas.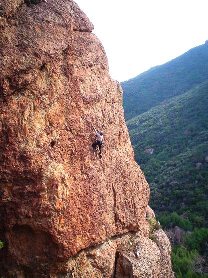 Preparation
Every effort is made to protect the park's natural resource, cultural assets, and wilderness values. To ensure success in this mission, some degree of preparation is demanded on your part. Knowing the necessary gear, planning your routes, and utilizing good climbing techniques will make your park experience an enjoyable one and a responsible one.
Use the links to the right to educate yourself about recommended sites, areas that are closed to climbing, etiquette and climber safety.
Closures and Regulations

Find out about park regulations and what's closed to climbing. Read More

Climbing Ethics & Safety

Climbing safety & ethics go hand and hand. Let's work together to ensure that these climbing areas remain open to everyone. Read More

Recomended Sites

What are the best places to climb? Check this page out for more information. Read More
Did You Know?

Comprising 153,075 acres, Santa Monica Mountains National Recreation Area is the world's largest urban national park. It has more area codes (5) and zip codes (26), including the notable 90210 zip code of Beverly Hills, than any other unit in the National Park System.