2013 Fire Restirctions

Due to high fire danger, fire and smoking restrictions are now in effect on all National Park Service land in the Santa Monica Mountains National Recreation Area. For details, please download the public notice or call 805-370-2301. More »
Update on Park Closures

All NPS trails are open at Rancho Sierra Vista/Satwiwa! Currently, this park site is only open sunrise to sunset.
Horseback Riding in the Park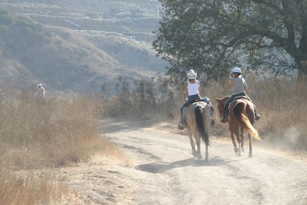 With more than 500 miles of horse trails in the Santa Monica Mountains National Recreation Area, there's a lot to see! You can enjoy a quiet ride on a trail. Explore the mountains on an exhilarating all-day ride. Join other equestrians at an overnight campground. There are even organizations that have horse rentals and take you on guided tours.
This information will help you in finding trails and parking, tips on horse safety and etiquette, and keeping everyone safe during your ride.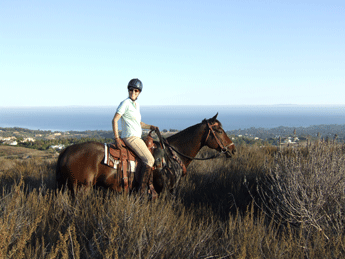 Preparation- always know before you go
Make sure the access road can accommodate your horse trailer.
Check recommended riding sites in advance for suitable trailer parking; anticipate higher weekend usage.
Maps, guidebooks, and other information are available at the Santa Monica Mountains Interagency Visitor Center, 26876 Mulholland Highway, Calabasas, CA, 91302
Did You Know?

Many hands spanning different generations and agencies continue to turn back the clock on damage to the fragile environment at Zuma Lagoon. After the removal of debris and the restoration of native plants, beach visitors now find a living wetland with 108 species of birds and colorful wildflowers.