2013 Fire Restirctions

Due to high fire danger, fire and smoking restrictions are now in effect on all National Park Service land in the Santa Monica Mountains National Recreation Area. For details, please download the public notice or call 805-370-2301. More »
Update on Park Closures

All NPS trails are open at Rancho Sierra Vista/Satwiwa! Currently, this park site is only open sunrise to sunset.
Backbone Trail (BBT)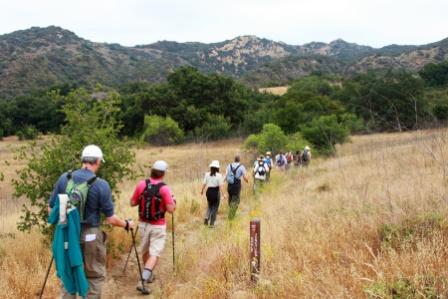 Photo by Jim Belsley
Interested in Hiking the Backbone Trail next year?
Signups for the NPS led 8 day (2 Saturdays a month, Jan thru April) hike of the Backbone Trail will start on October 1. The date has been moved up to allow more time for hikers to prepare for the rigors on the BBT hikes. The Backbone Trail Application is needed to sign-up for the hike. NOTE: Applications will not be accepted until October 1, 2013.
You can also check through these pages to learn about the different sections and download GPS coordinates to create your own BBT hike.
You can also learn more by reading the Backbone Trail Ranger's Blog from the annual hike series. You can also check out the links to your left as well.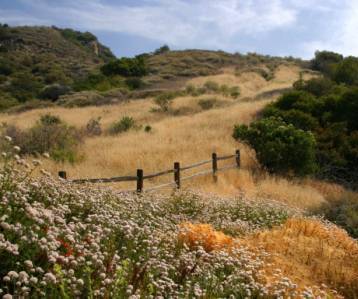 photo by jim belsley
About the Backbone Trail
You will see how many public and private agencies, organizations and individuals have joined together to create Santa Monica Mountains National Recreation Area in general and the Backbone Trail in particular and must continue as partners in its management efforts.
As individuals you can help support the park in many ways. You can share your knowledge by telling others about the parks and events. You can increase your knowledge by attending programs and lectures listed in Outdoors, the quarterly calendar of Santa Monica Mountains events published by the National Park Service. You can contribute your time by becoming a State or National park volunteer. You can help maintain the Backbone Trail and other trails by volunteering for trail projects with the Santa Monica Mountains Trails Council.
As hikers on this trail you will benefit from our Mediterranean eco-system, found only in five places in the world, experincing its many unique plant and animal communites. By being able to escape from city life, you enjoy the health benefits of hiking and learning a lot about our own unique area. You will also learn some history of the area through the trail as you travel through Coastal Sage Scrub, Chaparral, Oak Woodlands, Meadows, and Streamside areas.
We hope you will enjoy your traverse of the Santa Monica Mountains on the Backbone Trail.
If after you have read through the Backbone Trail (BBT) information and still have questions, please contact us and an experienced BBT hiker will respond to your question.


Did You Know?

Invasive plant seeds and fruits can stick to you boots, shoelaces, backpacks and even pets! Check your gear! Make sure you're not introducing harmful invasive species like the Yellow Star thistle to the Park, or into your back yard. More...