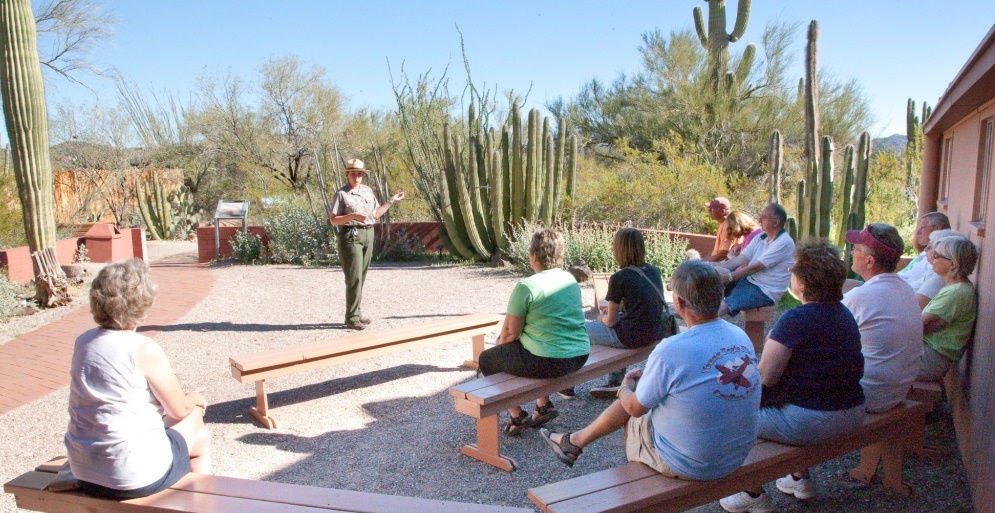 NPS Photo
Have you ever wondered why Organ Pipe and Saguaro cacti don't grow in all the American deserts? How is the Sonoran Desert different from the others anyway? Join us one of our free interpretive programs as we share the stories about your National Monument.
Interpretive programs are offered January through April, with a limited schedule of programs beginning in December. Program schedule is printed in the park newspaper and posted at bulletin boards around the park.
Programs are subject to change. Please check with the Kris Eggle Visitor Center (520)-387-6849 ext 7302 for more information.
Desert View Hike: Sunday, Monday, Thursday and Saturday at 8:30am
Expore the desert ecosystem and see desert plants up close. A 1.5 mile easy loop trail with great views awaits. Meet at the group campsite in Twin Peaks Campground.
Ajo Mountain Van Tours: Daily at 9am
Take the opportunity to spend 3 hours with a ranger on a drive through one of the monument's most beautiful areas. Space is limited to 10 people per day so reservations are required for this tour. Be sure to call or visit the Kris Eggle Visitor Center early in your visit to reserve your space.
Location Talk- Quitobaquito Spring: Monday, Wednesday, Friday at 10:30am
Join a ranger at this gorgeous desert oasis and learn about the animals and its rich cultural history. Meet the ranger at Quitobaquito or contact the visitor center to reserve a spot on the van. Begins January 2016.
Patio Talks: Daily at 11am, 2pm, and 3pm
These 15 minute presentations take place on the back patio of the Kris Eggle Visitor Center. Subjects and presenters vary.
Location Talk- Gachado Line Camp: Tuesday and Thursday at 1:30pm
Joina ranger at this historic cowboy line camp and explore the hard work it took to ranch the Sonoran Desert. Meet the ranger at Gachado or reserve a spot on the van. Begins January 2016
Ranger's Choice Hike: Monday, Wednesday, Friday at 1:30pm
Go bird watching, walk to an abandoned copper mine, search for wildlife along a dry river bed, or learn the stories in the stones with a ranger. Hikes are posted at bulletin boards and vary in length and difficulty.
Evening Programs: Sunday, Wednesday, Thursday, Friday and Saturday at 7pm
End your evening with a 45-60 minute slide show at the Twin Peaks Campground amphitheater.Presentations cover a variety of topics, including natural and cultural history. Check bulletin boards for topics. Begins January 2016.
Evening Program in Ajo: Tuesday at 7pm
Once a week a ranger will present an evening program in Ajo, Arizona. Locations will vary, check at visitor center for more information. Begins January 2016.
Explore the Desert After Dark:
This winter, Organ Pipe Cactus comes alive after dark. Join park rangers for full moon hikes and stargazing programs throughout the season.

Full Moon Hikes: January 23, February 22, and March 23

Stargazing Programs: January 9th, February 8, April 7
Special Programs:
Special educational and recreational programs will be offered to throughout the season. Check with the visitor center for more information. All programs take place at the Visitor Center.

Science Lecture Series- 2pm second and fourth Wednesdays of the month

Organ Pipe Cactus Division Chief Talks- 11:00am first and third Thursdays of the month

Border Patrol 101- 2:00pm first and third Wednesdays of the month
Humanitarian Efforts in the Desert- 1:00pm first and third Tuesdays of the month
Yoga in the Desert- check bulletin boards for information

NPS Photo