Have you ever wondered why Organ Pipe and Saguaro cacti don't grow in all the American deserts? How is the Sonoran Desert different from the others anyway? Join us one of our free interpretive programs as we share the stories about your National Monument.
Interpretive programs are offered January, February and March. Check program postings at the Kris Eggle Visitor Center or the Twin Peaks Campground for details.
Programs are subject to change. Please check with the Kris Eggle Visitor Center (520)-387-6849 ext 7302 for more information.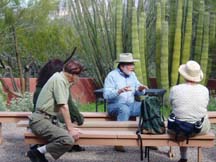 Joyce Craig
Patio Talks

These 10-20 minute presentations take place on the back patio of the Kris Eggle Visitor Center. Subjects and presenters vary.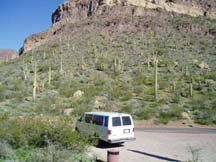 NPS
Ajo Mountain Van Tours
Take the opportunity to spend 3 hours with a ranger on a drive through one of the monument's most beautiful areas. Space is limited to 10 people per day so reservations are required for this tour. Be sure to call or visit the Kris Eggle Visitor Center early in your visit to reserve your space.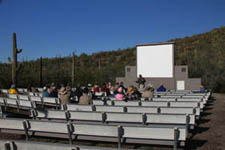 NPS Photo
Evening Programs
End the day with a 45-60 minute slide show at the Twin Peaks Campground amphitheater. From cactus and hummingbirds, to cowboy music and cartoon characters, these programs are opportunities for our staff's personalities to really shine through.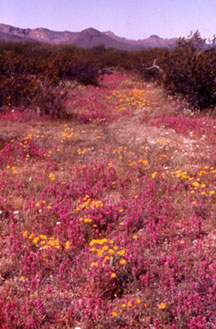 NPS
Special Programs
These include guest speakers, trips to the best flower patches when they bloom, and out to the Quitobaquito oasis. Ask at the Kris Eggle Visitor Center if any are scheduled while you are in the park.
Park Video
The monument's video "Where Edges Meet: A Sonoran Sanctuary," is shown in the Kris Eggle Visitor Center by request. The 15 minute video provides a brief overview of the monument and it's history.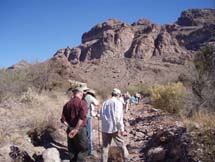 NPS
Guided Hikes
Go bird watching, walk to an abandoned copper mine, search for wildlife along a dry river bed, or learn the stories in the stones with a ranger. Hikes are posted at the Kris Eggle Visitor Center and vary in length and difficulty.