Camping
You can camp in one of the two campgrounds within the monument. They have different amenities and offer campers a choice between modern comforts and rustic wilderness. However, at either campground you may see the desert, dark sky subtlety iluminated by countless stars or shadows that are awakened under a full moon's glow. Songs of coyotes or the hum of a breeze may lull you to sleep. Awaken with a blazing sunrise and hike one of the trails that originate at the campgrounds.
Twin Peaks Campground
Twin Peaks Campground has 34 tent-only sites and 174 places for RVs. Several sites can accommodate RVs up to 40 feet in length. Restrooms have running water and a few have solar showers. Hookups for electricity, water, or sewer are not available. A dump station is located past the last row of campsites.
Camping fees are $12.00 per night. Holders of the Senior or Access Pass receive a 50% discount on camping. Advance reservations are not accepted but there are usually sites available even on the weekends. Please call, 520-387-6849 on the day of your arrival for campground status.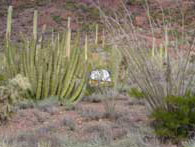 NPS photo
ALAMO CAMPGROUND
Tent campers wanting a more primitive experience should ask about Alamo Campground. It has four (4) tent-only sites that are surrounded by a quiet desert landscape. Water is not available and fires are not permitted. It is first-come, first-serve only. Registrations must be made in person at the Kris Eggle Visitor Center before occupying a campsite. Camping permits are $8.00 per night. Holders of the Senior or Access Pass receive a 50% discount on camping.
GROUP CAMPING
Five camping sites will accommodate groups of 18 to 45 people. There is a $30 advance deposit to reserve a site. Upon arrival at the campground, the deposit will be applied to the total camping cost of $5.00 per person, per night. There is no electricity in the sites or RV hookups. Restrooms have running water and an electrical outlet for personal appliances only. For more information and group site reservations, contact the Kris Eggle Visitor Center (520) 387-6849 ext. 7302.
An $8.00 entrance fee (valid for seven (7) consecutive days) per vehicle is required in addition to all camping permits. Holders of the Senior or Access Pass receive entrance at no additional charge.
There is currently no wilderness/backcountry camping on the monument. If you would like to overnight on the monument, you must be in either Twin Peaks or Alamo Canyon campgrounds.


Did You Know?

These tiny powerhouses of birds are Ferruginous Pygmy Owls and are only about the size of a human fist, but can easily eat twice their body weight in one meal.