Upcoming Events
Showing 7 results
  Show ALL instances of recurring events

 RSS Feed
Ranger Programs are typically offered in January, February, and March. Check with the visitor center 520-387-6849 x7302 for more details.
Find events in the town of Ajo.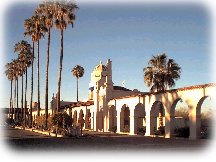 courtesty Ajo Chamber of Commerce
The town of Ajo, 34 miles north of the Kris Eggle Visitor Center, always has something going on. Check out their community calendar to learn more about what might be happening while you are visiting.