NEW OPERATING HOURS AND CLOSURES

Effective 3.10.13 UNTIL FURTHER NOTICE: Visitor Center & parking is CLOSED Wednesdays & Thursdays. Fridays - Tuesdays, the park will be open 10 AM - 4 PM. Star Fort Pond is CLOSED 9 AM Sundays – 9 AM Tuesdays.
Outdoor Activities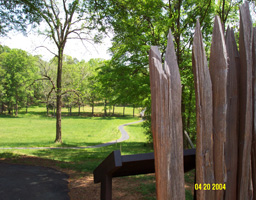 Ninety Six National Historic Site
Park Visitor Center hours are from 9:00 am to 5:00 pm daily. However, if you park outside of our front gate you may visit the park from daylight to dusk. The gates are locked from 5:00 pm until 8:00 am daily.
Visit during one of our special events and experience the sights, smells, and sounds of Colonial and Revolutionary War life including touring our Black Swan Tavern.
Tours: The Park offers Ranger led tours throughout the year especially around special events and programs. Ask in the Visitor Center or check the bulletin board for times.
Besides the historical parts of the Park, don't forget to enjoy all the outdoor activities the park has to offer.
Check out the Park's bulletin board for the latest park information and event schedule.
Historic Interpretive Trail: The paved 1 mile walking trail includes wayside signs, the reconstructed siege works and Stockade Fort, original 1781 Star Fort, town site of old Ninety Six, historic roads, and more. The trail begins and ends at the visitor parking lot. Horses, bikes, skateboards, etc are not allowed on the trail. There are 2 small hills (the larger one is located by the Stockade Fort). Ask in the Visitor Center for a map. (approx. 45 mins)
Hiking Trails: The Park has several primitive trails, including the Cherokee Path, Gouedy Trail, and more. Ask in the Visitor Center for the latest map.
Picnic Area: Located just down the trail from the Cabin by visitor parking. No reservations needed. Two picnic tables are handicap accessible. Picnicking is allowed in designated area only.
Star Fort Pond: Located at the back of our property along Hwy 246. Fishing is allowed Wednesday, Friday, and Saturday April 1 to November 1. The times for fishing are from 30 minutes before sunrise until 30 minutes after sunset.
There's also bird watching, and wildlife viewing. A list is being compiled of the birds that are in the Park, but the Park's wildlife includes: deer, gray squirrels, gray fox, opossums, raccoons, beaver, and cottontail rabbits.
When visiting, please remember:
to keep all pets on a leash
do not climb or walk on earthworks
stay on trails
watch for fire ants, poison ivy, ticks, and snakes
metal detecting or digging for artifacts is strictly prohibited
collection or damage to plants, wildlife, rocks, or artifacts is prohibited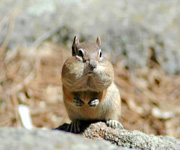 National Park Service
.


Did You Know?

Light Horse Harry Lee got his nickname because of his daring rides against the British.  Lee's Legion wore green uniforms like those of the British Cavalryman Banastre Tarleton.  It allowed them to operate in enemy territory & blend with the landscape. You can see where Lee fought at Ninety Six NHS.