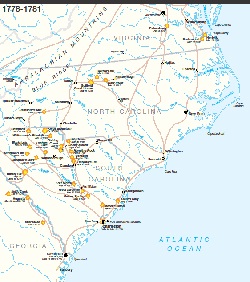 NPS image
History Hurts. Did you know that history can hurt? Ninety Six NHS is a special place. It is a monument to the people who lived, fought, and died here. Some of the historic structures and features are fragile and so are you! Please keep yourself and the structures from being injured on your visit.
Bridging the Language Divide. This site bulletin explores the language barrier between traders and Cherokee.
Backcountry Shopping. Learn about Cherokee trade in the backcountry.
African Americans played a vital role in all major events occuring at Ninety Six.
Colonial Fishing and the Contemplative Man's Recreation focus on fishing in colonial times - as a way to survive and enjoy nature.
The Southern Campaign is an often ignored but significant aspect of the Revolutionary War and its outcomes.
More than Uniformity. Read these this document to find out how 18th century uniforms served as protection and identification.
Artwork by Robert Windsor Wilson is on display in the visitor center theater. Use this to help you learn more about the paintings.
Thaddeus Kosciuszko & Pure Son of Liberty focuses on the life of Kosciuszko and his role at Ninety Six.
The Past is Our Common Destiny emphasizes the preservation and protection of our past and our future by preventing illegal activities.
Protecting the Past encourages us to "give a hoot and don't loot" because archeological resources belong to all of us.
Archeological Resource Protection Act strengthened proceedures for conducting archeological fieldwork on federal lands. It also established more rigorous fines and penalties for unauthorized excavation on federal land. Take only memories - leave only footprints.
Another Kind of Living History. Ninety Six is not only home to the living history of the settlement and Siege of Ninety Six but also home to the living history of the plants and trees in the park.
Birds at Star Fort Pond is a guide to help identify some of the avian species you may encounter at the Star Fort Pond.
Snakes at Ninety Six is a guide to help identify some of the snake species who inhabit the park.