NEW OPERATING HOURS

Effective 9.29.13: Visitor Center is CLOSED Mondays & Tuesdays. Wednesdays - Sundays, the Visitor Center will be OPEN 9 AM - 4 PM. Star Fort Pond is CLOSED 9 AM Sundays – 9 AM Tuesdays. Park grounds open dawn to dusk. Gates lock at 5 PM.
Brochures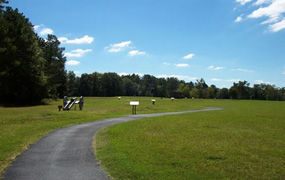 Ninety Six National Historic Site
We also have brochures and for local and South Carolina tourist information, directions, the schedule of park events, & much more.
Ask at the Visitor Center desk.


Did You Know?

The Revolutionary War in the South Carolina Backcountry was a civil war. Neighbor fought neighbor & family member fought family member. The Ninety Six District was no exception that is one of the reasons Ninety Six National Historic Site has two Revolutionary War battles on its grounds.