Frequently Asked Questions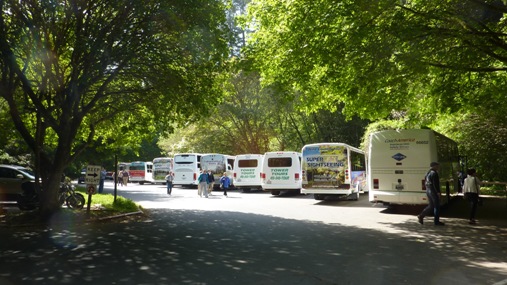 NPS photo by Ranger Lou Sian
How do I get to Muir Woods?
Click Directions for more information.
When is the park open?
Muir Woods is open every day of the year, including all holidays. Park hours vary throughout the year, but the park is generally open 8:00 a.m. to sunset. More>>>
How much does it cost to get in?
The entrance fee is $7.00 for people 16 years and older. Parking is free at Muir Woods and Muir Beach. More>>>
Is Muir Woods accessible to those with limited mobility?
Yes! Muir Woods has 1.5 miles of paved or boardwalked trail which is mostly flat. Loops of half a mile, one mile, or two miles are easily achieved on this trail. It also features many benches in both sun and shade for resting. For those with a little more mobility, a dirt fire road to Camp Alice Eastwood provides a relatively easy graded additional trail. The café, gift shop, and restrooms all meet ADA accessibility standards, and six parking spaces are reserved in the main parking lot for those with disabled parking placards or license plates. There are two wheelchairs and two strollers available to borrow on a first-come, first-serve basis at the visitor center.
Can I bring my dog or other pet to the park?
Not into Muir Woods itself. The park is very small and can get very crowded. We need to protect the wildlife, the other visitors, and your pet. However, pets on leash are permitted in some nearby areas, such as Muir Beach, the Coastal Trail, and some trails in the Marin Headlands. Click here for a trail map for more information.
Also, Marin County is a playground of trails for humans and their pets alike, managed by several different agencies. In the Mount Tamalpais area, the state park does not allow pets on trails in general, but they are permitted on leash on almost all trails of the Marin Municipal Water District and Marin County Open Space District.
Can I picnic in the park?
Unfortunately, no. The park is simply too small a space for so many people to enjoy picnicking without impacting the very forest which they are here to visit. Picnicking also leads to a higher level of litter and human food in the park, which is harmful to wildlife. However, there are several picnic areas nearby, including Muir Beach, Muir Beach Overlook, and Bootjack Picnic Area.
Food and hot beverages are also available in our café, operated by our park concessionaire, Muir Woods Trading Company. Call (415) 388-7059 for more information.
Can I camp at Muir Woods?
Unfortunately, no; Muir Woods is a day-use area. There are a variety of camping opportunities in nearby parks however. Check out our brochure for nearby camping locations.
Do you have education programs?
Yes! We have a variety of education programs both at Muir Woods and throughout the Golden Gate National Recreation Area. For more information, please call 415-388-2596.
Can I take anything from the park as a souvenir?
Not from the park itself. Everything in the park is protected, including animals, rocks, historic artifacts, leaves, redwood cones, and sticks. If you need a walking stick, please bring your own; animals need the sticks on the forest floor as food and habitat. Remember: "Take only memories and photographs, leave only footprints."
However, Muir Woods does have both a bookstore and gift shop where souvenirs may be purchased. None of the items sold in these shops are collected in the park. The bookstore, located in the visitor center, contains educational and interpretive materials about Muir Woods, John Muir, redwoods, and much much more, including a large children's selection. It is operated by our park partners, the Golden Gate National Parks Conservancy. Call for more information: (415) 388-7368.The Gift Shop carries souvenirs, T-shirts, post cards, redwood seeds and seedlings, film, snacks and more. It is operated by our park concessionaire, Aramark. You may order items online from them at the Muir Woods Trading Company website or by calling (415) 388-7059.
Can I smoke in the park?
Smoking is permitted in the parking lots but is prohibited within the monument itself. Cigarette butts must be completely extinguished and disposed in the trash cans. Cigarette butts are litter, and can cause fires when carelessly disposed.
Is there a beach nearby?
Yes. Muir Beach is about 3 miles away, Stinson Beach is about 10 miles away, and Golden Gate National Recreation Area also has several beaches. Muir Beach is a small beach with a seasonal lagoon behind it. It's a great place for bird-watching, playing on the beach, and hiking. There is a small picnic area with grills, outhouses, and a pay phone. There are no lifeguards on duty. Please help us protect salmon by keeping people and domesticated animals out of the lagoon. Note: Muir Beach is closed for restoration construction, and will re-open on January 12, 2014.
Is photography allowed in the park?
Yes, for personal purposes. We only ask that if you use a tripod, please do not block the trail or put the it on the fragile forest floor. You and your camera equipment must stay completely on the trail at all times. However, if you are filming for commercial purposes, please click on Permits. Clicking on the link will take you to the park's headquarters at Golden Gate National Recreation Area, Special Park Uses Group.
I don't have a car. How do I get there?Marin Transit will operate the Muir Woods Shuttle service between Manzanita Park and Ride to Muir Woods on weekends / holidays between Memorial Day and Labor Day. New for 2013, the Muir Woods Shuttle will operate over the winter on a few select days (11/28-12/1 Thanksgiving weekend, 12/21 Winter Solstice, and 12/26 through 1/1/14 the day after Christmas through New Years Day).
Local tour companies bring groups to Muir Woods on a daily basis. Most tours originate in downtown San Francisco or Fishermans' Warf, and include time a Sausalito. We can not recommend individual companies; check the phone book or do a web search for Muir Woods tours.
Do I need reservations?
No. You do not need reservations to visit the park. However, if you are coming for one of our special events, or for an education program, please call to let us know you're coming.
Advance entrance fee sales are available for larger groups. Please contact the Golden Gate National Parks Conservancy at (415) 388-7368.
May I bike in or near Muir Woods?
You may not bike in Muir Woods itself. However, there are many fire roads in Mount Tamalpais State Park and Golden Gate National Recreation Area to challenge your mountain biking skills. Many people also enjoy riding the paved mountain roads of the area. Please respect trail designations and regulations and be aware of pedestrians and other vehicles at all times.
What will we see at Muir Woods?
You will see the tallest type of tree in the world, the Coast redwood, sequoia sempervirens, as well as the countless other plants and animals that are part of an old-growth redwood forest, including tanoak trees, ferns, redwood sorrel, stellar jays, black-tailed deer, and banana slugs, to name a few.
Is there a drive-through tree at Muir Woods?
No. We have never had a drive-through tree here, as cutting the hole would endanger the health of the tree. There used to be a drive-through sequoia tree known as the Wawona Tree in Yosemite National Park, but it fell in 1968/69. However, there are three privately owned drive-through redwood trees along Highway 101 in Humboldt and Del Norte Counties (northern California). The closest one is about 4 hours north of Muir Woods.
Can I drive my RV, bus, or trailer to Muir Woods?
Maybe. The roads to Muir Woods are very narrow and winding. The California Highway Patrol has posted an advisory limiting vehicles to no longer than 35 feet on Highway 1 and Muir Woods Road leading to the park in both directions. Also, there are no parking places for RV's and cars/trucks with trailers in the parking lots. The closest parking for these vehicles is at least .25 miles away on the side of the road. If you do have a large vehicle that fits under the 35 foot limit, (and you feel comfortable on narrow roads AND you have no alternatives) we suggest that you come down the Muir Woods Road (from Panoramic Highway), and return via Muir Beach on Highway 1. (This keeps most of our large vehicle traffic going one way on each road.)
Are there any dangerous plants or animals?
Yes. While we cannot guess all the dangers that may be in the wilderness, here are a few that we are aware of.
Plants: We have both poison oak and stinging nettle. With poison oak, as the saying goes, "leaves of three, let them be." If you stay on the lower trails, you are unlikely to encounter either. If you will hike further in the woods, ask a ranger to show you a picture of what to avoid.
Animals: Our animals are safe for the most part, but can become dangerous if they are sick, injured, or harassed. Do not approach wildlife, no matter how small and harmless it appears. An animal that allows you to approach it is more likely to be sick and dangerous. While there have been mountain lion sightings nearby, they have not been seen in Muir Woods itself. The most dangerous animal in the park is the yellow jacket. If you have known allergic reactions to bee stings, please bring your medication. Ticks are present and may carry Lyme disease. Rodent droppings may contain Hantavirus. West Nile Virus has been detected in the San Francisco Bay Area (though Mosquitos are rare in Muir Woods). To help protect yourself from all animals, do not feed them, and dispose of trash properly.
Can I get married in Muir Woods?
Yes, however, we ask that you obtain a permit to do so, and you may be limited on the size of your group and where you may hold the ceremony. We do not reserve parking for these events. Please contact our Office of Special Park Uses for details. Clicking on this link will take you to the Web site for park headquarters, Golden Gate National Recreation Area.
I want to come to Muir Woods with a Tour Group. What do I need to know?
Tour Groups come to Muir Woods every day, either with regularly scheduled tours, or as part of a special tour. A few important things to know:
Buses must be less than 35 feet in length.
Groups may purchase tickets in advance; this helps get your group quickly into the park.
Park staff are not available to give guided tours to groups. Tour leaders may only lead groups as far as the Crosscut. This helps alleviate crowding and congestion on trails and improves your participants' experience.
School groups who are here for educational purposes should contact the rangers at 415-388-2596.
For more detailed information, including required permits, where buses park, and park information that may be helpful to tour leaders, please call 415-561-4948.
What is Muir Woods' address?
Our "address" depends on what you need it for. Please note that for information requests, there's far more information on our web page than we can send you in brochure form.
For mail (USPS or parcel services): Muir Woods National Monument, Mill Valley, CA 94941-2696
For mapping systems (mapquest, yahoo, etc.): see our directions page for directions and an explanation of why mapping systems don't always work.
alternate contact options:

phone: information line 415.388.2595
fax: 415.389.6957