Plan Your Visit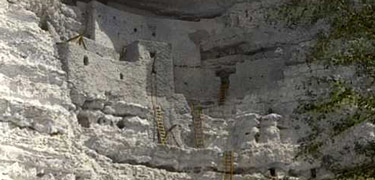 NPS Photo
Make the most of your visit
Spend a few hours and discover the incredible legacy of an ancient people. Montezuma Castle National Monument.
A self-guided, 1/3-mile loop trail leads you past an incredible 5-story cliff dwelling, through a beautiful sycamore grove and along spring-fed Beaver Creek, one of only a few perennial streams in Arizona.
Ranger programs are offered daily (ask a park ranger for details when you arrive). Dogs, on leashes no longer than 6 feet are welcome on the park's trails. Pet owners must clean up after their animals.


Did You Know?

Both the Western Diamondback and the Black-tailed Rattlesnake call Montezuma Castle their home. This Diamondback was marked for our monitoring project. This multi-year undertaking led to new management techniques, including stopping relocation since this could lead to the death of the snake. More...