Plan Your Visit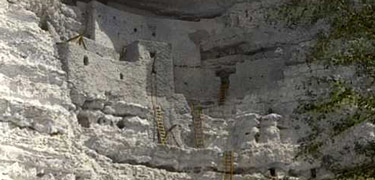 NPS Photo
Make the most of your visit
Spend a few hours and discover the incredible legacy of an ancient people. Montezuma Castle National Monument.
A self-guided, 1/3-mile loop trail leads you past an incredible 5-story cliff dwelling, through a beautiful sycamore grove and along spring-fed Beaver Creek, one of only a few perennial streams in Arizona.
Ranger programs are offered daily (ask a park ranger for details when you arrive). Dogs, on leashes no longer than 6 feet are welcome on the park's trails. Pet owners must clean up after their animals.


Did You Know?

When you hear the loud, steady humming of cicadas in the summertime it is actually male group singing, or serenading of female cicadas. Male cicadas make the sharp sound with plate-like organs on the thorax to attract a mate. They can get very loud at Montezuma Castle National Monument.