Holiday Closure

The facilities and grounds of Montezuma Castle National Monument and Montezuma Well are closed each year on December 25. Both sites will reopen and welcome visitors at 8:00 a.m. MST on December 26.
Plan Your Visit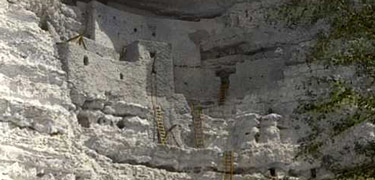 NPS Photo
Make the most of your visit
Spend a few hours and discover the incredible legacy of an ancient people. Montezuma Castle National Monument.
A self-guided, 1/3-mile loop trail leads you past an incredible 5-story cliff dwelling, through a beautiful sycamore grove and along spring-fed Beaver Creek, one of only a few perennial streams in Arizona.
Ranger programs are offered daily (ask a park ranger for details when you arrive). Dogs, on leashes no longer than 6 feet are welcome on the park's trails. Pet owners must clean up after their animals.


Did You Know?
No fish? Due to concentrations of dissolved carbon dioxide nearly 600 times higher than other natural aquatic environments, Montezuma Well contains no fish. Instead, the collapsed limestone sinkhole has a unique aquatic habitat that is home to organisms found nowhere else in the world.