Historic Telaquana Trail Route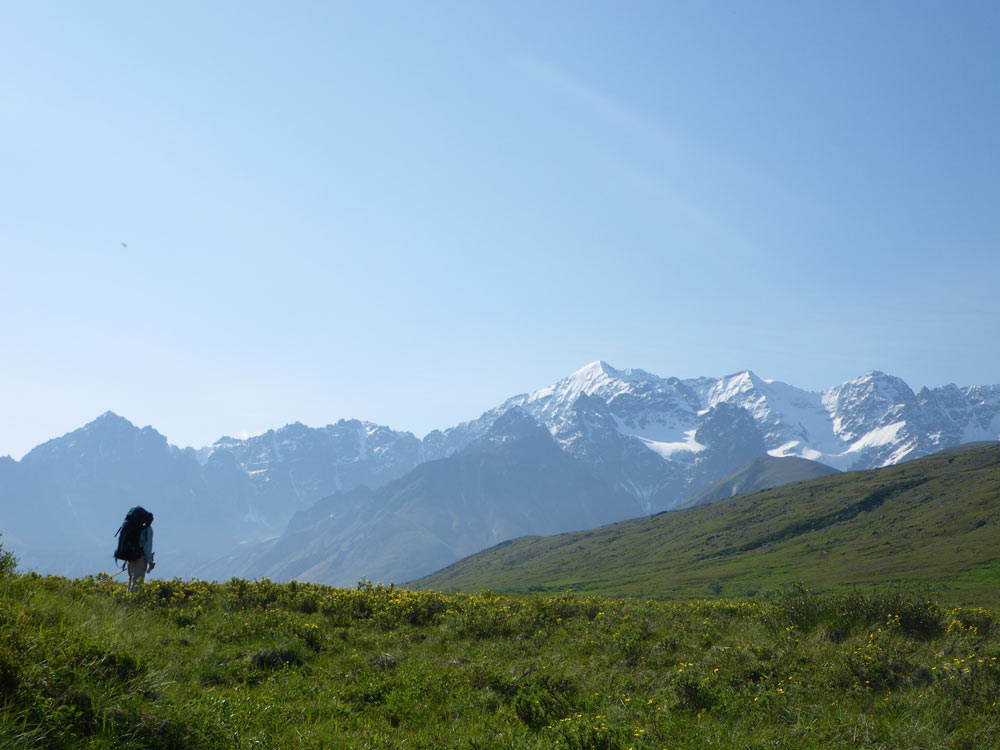 NPS Photo / Adrienne Lindholm
This route describes the northern section of the historic Telaquana Trail from Telaquana Lake to Lower Twin Lake.
Maps: USGS 1:63 360 series topographic Lake Clark C3, D3
Access: Fly in/out of Telaquana and Lower Twin Lakes
Time: 2-4 days
Difficulty: Gentle to moderate trail-less hiking over rolling alpine tundra. Two river crossings.
Highlights: Feel like you're following in the footsteps of generations of Dena 'ina people. There is no actual trail and the historic route was actually farther west, but this modern route takes advantage of some of the most gentle and scenic terrain in the park.
Hazards: You must cross the Mulchatna River, which can be waist deep in mid-summer. Caution is recommended. Experienced packrafters may wish to bring a packraft to facilitate crossing. Hikers tend to cross at the lake outlet or a couple miles downstream at the historic crossing where the water is shallower. Crossing the Chilikadrotna River is much the same as the Mulchatna but can be avoided by getting picked up on the North side of the river at Lower Twin Lake. Lower water levels may occur May-June and mid-August.
Route: The Telaquana Trail, an historic Dena'ina Athabascan route, is a popular one-way backpacking journey. It can be hiked south from Telaquana Lake or north from Lower Twin. The expansive tundra plains between the lakes offer countless opportunities for hiking and exploring. The most direct route bisects the outlets of Turquoise and Lower Twin Lakes.
To hike south from Telaquana Lake begin the hike from mid-lake on Telaquana Lake and climb up into alpine country this may take two to five hours. Once above tree line the camping sites and drinking water are numerous and you may continue at your desired pace. Be sure to cross the Mulchatna River up stream of the first major tributary entering from the south, this about 1.5 miles downstream of Turquoise Lake. Follow this same tributary up to higher country before making the descent into the Chilikadrotna river basin.
trip planning guide to the Historic Telaquana Trail is available both in the park's visitor center in Port Alsworth and through Alaska Geographic.
Telaquana Trail History
Learn the story of this historic Dena'ina Athabascan route.
Read more about the history of Telaquana Trail