Things To Do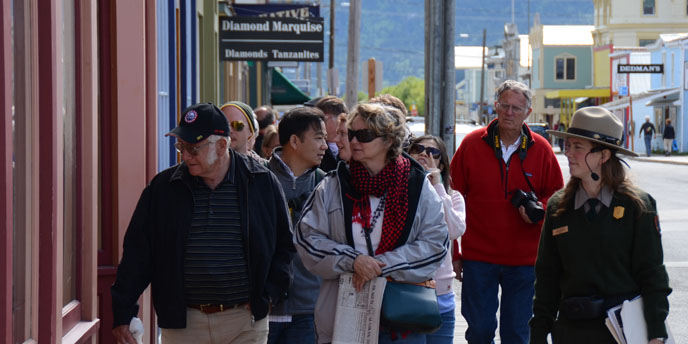 NPS photo/Lauren Barney
Klondike Gold Rush National Historical Park commemorates the struggles and accomplishments of all who participated in the Klondike Gold Rush in 1898. Whether you are a history lover or want to see more of Alaska's outstanding scenery, here are some ideas to consider for your time in Skagway:
If you have half a day, begin your tour at the National Park Visitor Center in the restored 1898 rail depot at 2nd and Broadway.
Reserve your space on the free Ranger-led walking tour. (1 hour)
See the free half-hour film, "Gold Fever: Race to the Klondike."
Pick up a current schedule for interpretive programs offered daily at 10:00 am
Visit the park museum adjacent to the Visitor Center and stroll through the restored historic Mascot Saloon
Play at the Junior Ranger Activity Center. Great for families.
Become a Deputy Ranger, ask a ranger for details or get started at home!
If you plan to spend an entire day, there will be time to sample one or more hiking trails in Skagway or drive to Dyea
Walk an easy trail and look for marine life from Yakutania Point
Explore Skagway's Gold Rush Cemetery and photograph Lower Reid Falls
Enjoy a view of Skagway and hike through the forest to Lower Dewey Lake
Attend a Ranger-led tour through the former boom town of Dyea
Visit the Skagway City Museum at 7th and Spring St
With multiple days in Skagway, your options increase.
Note: Passports are required when you travel through the United States border station located 5 miles from Skagway on the South Klondike Highway


Did You Know?

The White Pass Trail of Klondike Gold Rush NHP earned infamy as the "Dead Horse Trail." Over 3,000 horses died there as inexperienced gold seekers struggled to reach the Klondike. "The horses died like mosquitoes in the first frost, and from Skagway to Bennett they rotted in heaps." -Jack London More...