Contact Us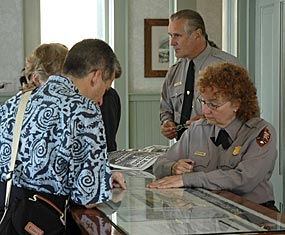 NPS photo
We will be happy to answer your questions if you can't find the information you need here in the website. Look below for three ways to get in touch with a member of the park staff.
Email us:
Call us:
(907) 983-9200
Or write to us:
Klondike Gold Rush National Historical Park
P.O. Box 517
Skagway, Alaska 99840
Did You Know?

The White Pass Trail of Klondike Gold Rush NHP earned infamy as the "Dead Horse Trail." Over 3,000 horses died there as inexperienced gold seekers struggled to reach the Klondike. "The horses died like mosquitoes in the first frost, and from Skagway to Bennett they rotted in heaps." -Jack London