Chilkoot Trail Bridge Out

A bridge, south of Canyon City 6 1/2 miles from the Chilkoot US trail head has collapsed under heavy snow load and is out until further notice. Hikers should be prepared to wade through a boggy section, and water may be knee or wa
Campgrounds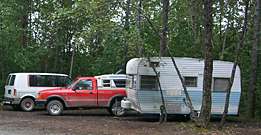 The Dyea Campground is located 9 miles from Skagway and .5 miles from the the Chilkoot trailhead. The campground is within a short drive or bike ride of the historic townsite of Dyea. (See Dyea Townsite Map)
The campground is monitored by National Park Service rangers and is open when free of snow. The campground provides 22 sites for vehicle and walk-in camping. Hook-ups are not available for recreational vehicles. Campers are advised to bring drinking water and firewood.
Facilities: Pit toilets, fire rings, picnic tables, and garbage receptacles are provided.
Fees: $10 per site per night. Self-registration at the campground entrance.


Did You Know?
The Chilkoot Trail was an important trade route connecting the Tlingits with interior First Nation peoples long before the Klondike Gold Rush.  Dyea or Deiyaa (Tlingit for "to pack") was a small Native settlement used as a fishing camp and staging area for trade expeditions to and from the interior.