Klondike Gold Rush NHP is made up of three units in Alaska and one unit in Seattle, WA. Each of these places played an integral role in the stampede to the Klondike. The three units in Alaska are the Skagway Historic District, the White Pass Trail, and the Chilkoot Trail (including the Dyea Townsite).
Beyond the sites in Seattle and Skagway, the story continues all the way to Dawson City, Yukon Territroy heart of the Klondike Gold Fields. Sites along the way have also been protected by Parks Canada. Together the National Park Service sites along with the Park Canada sites create an International Historical Park linked together by the Chilkoot Trail. The two primary Parks Canada sites include Chilkoot Trail National Historic Site and the Klondike National Historic Sites of Canada.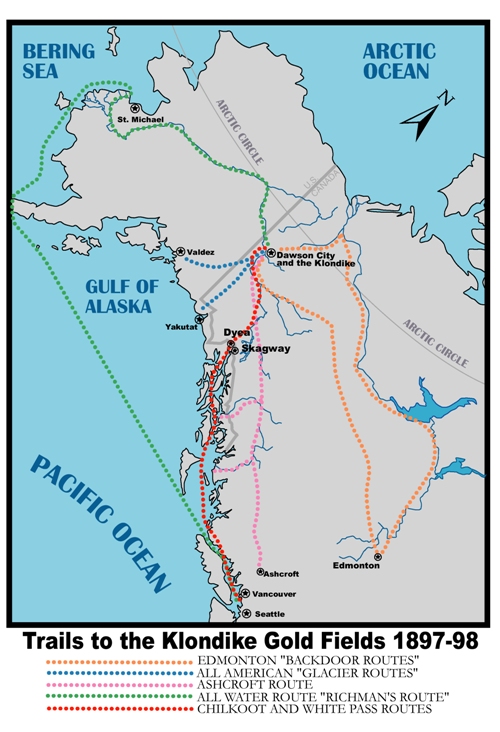 NPS map
Stampeders took several routes to the Klondike, some over land and glaciers, others only by water, however most streamed through Skagway or Dyea, Alaska to battle with either the Chilkoot or White Pass routes both ending at Lake Bennett. This is the headwaters of the Yukon River, and marks only half way point of the 1500 mile journey to the Klondike Gold Fields, from Seattle, WA to Dawson City, YT.