Accessibility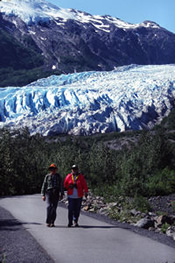 © Jim Pfeiffenberger
Exit Glacier
A one-mile wheelchair-accessible loop (partially paved, partially compressed gravel) leads to a panoramic view of Exit Glacier spilling down from the Harding Icefield. A spotting scope is available at the viewpoint.
Wheelchairs are available to be borrowed at the Exit Glacier Nature Center. They are first come-first served, and a ID will be held till they are returned.
Visitor Centers
Kenai Fjords National Park Information Center in Seward and the Exit Glacier Nature Center are both wheelchair accessible.
Public Use Cabins
All Public Use Cabins have wheelchair accessible decks and doors. Assistance may be required to access the cabins from the beach.


Did You Know?

With 570,374 square miles, Alaska is twice the size of Texas and 1/5 the size of the rest of the United States. It stretches 2,400 miles east-to-west and 1,420 miles north-to-south. Its 6,640-mile coastline is 50 percent longer than the combined east and west coasts of the United States.