Campgrounds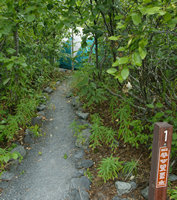 © Ron Niebrugge--www.wildnatureimages.com
Exit Glacier has a 12-site, walk-in, tent-campground. Sites are available on a first-come, first-served basis. There are no reservations or camping fees. There is a fourteen day stay limit. The campground frequently fills by early evening in July and August.
A central food storage, cooking and dining shelter is provided. Cooking and/or storing food in campsites is prohibited. There is a pump for drinking water and pit toilets are available. Pets are not permitted in campsites.
Camping is also available in nearby Chugach National Forest and through the Seward Parks and Recreation Department. Contact the Seward Chamber of Commerce for information on private campgrounds in the area.


Did You Know?

River otters defecate in certain spots to mark their territory. Researchers in Kenai Fjords National Park have discovered that these "latrine sites" enrich the soil, allowing plants to grow in those spots that aren't found anywhere else close by.