Campgrounds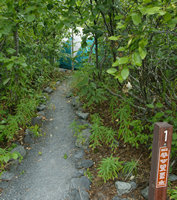 © Ron Niebrugge--www.wildnatureimages.com
Exit Glacier has a 12-site, walk-in, tent-campground. Sites are available on a first-come, first-served basis. There are no reservations or camping fees. There is a fourteen day stay limit. The campground frequently fills by early evening in July and August.
A central food storage, cooking and dining shelter is provided. Cooking and/or storing food in campsites is prohibited. There is a pump for drinking water and pit toilets are available. Pets are not permitted in campsites.
Camping is also available in nearby Chugach National Forest and through the Seward Parks and Recreation Department. Contact the Seward Chamber of Commerce for information on private campgrounds in the area.


Did You Know?

With 570,374 square miles, Alaska is twice the size of Texas and 1/5 the size of the rest of the United States. It stretches 2,400 miles east-to-west and 1,420 miles north-to-south. Its 6,640-mile coastline is 50 percent longer than the combined east and west coasts of the United States.