This large earthwork complex contains a low embankment forming a small circle and an irregular circle and a square, all connected and enclosing about 121 acres. Within the enclosure is a large elliptical mound, three smaller conjoined mounds, several small mounds, and several structure outlines found through excavations. It is estimated that the large mound was originally 240 feet long, 160 feet wide, and 30 feet high.
A reconstructed mound and a portion of reconstructed wall are visible, and a portion of original wall is visible near Dill Road. Parking is only accessible at the front of the site. No restroom facilities are at this site, but there is a covered picnic shelter. Informative signs are placed throughout the earthwork. Download the
site bulletin
and visit Seip! The site is open daylight hours.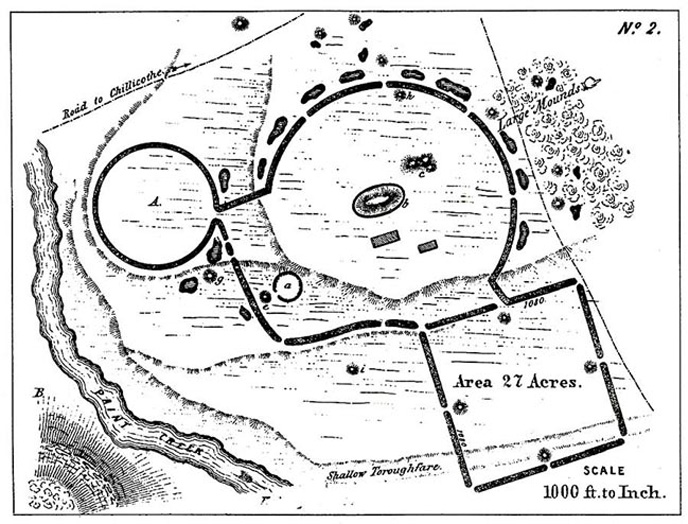 SQUIER AND DAVIS 1848
A Historic Re-Dedication
Since the early 20th century, much of the Seip Earthworks unit was owned by the Ohio History Connection (OHC) (formerly known as the The Ohio State Archaeological and Historical Society and the Ohio Historical Society). Between 1992 and 2014, The National Park Service had partnered with the Ohio History Connection in co-owning and co-managing the Seip Earthworks site.
After a decades worth of arranging and planning, the deed of ownership to Seip Earthworks was officially transferred from OHC to the National Park Service on September 3, 2014. Even though the government-owned majority of Seip Earthworks is now solely under the possession and management of Hopewell Culture NHP, we will continue our proud partnership with OHC in meaningful and creative ways to preserve and protect the remnants of the Hopewell Culture.
Loading the player...

Chief Glenna Wallace's Seip Earthworks Speech

The historic and profoundly moving speech from Chief Glenna Wallace of the Eastern Shawnee Tribe of Oklahoma during the Seip re-dedication.  A very special day in Hopewell Culture NHP history is made even more special with Chief Wallace's eloquently-tailored speech.  Recorded on the day of re-dedication, October 9, 2014.

Duration:

16 minutes, 40 seconds

Credit / Author:

NPS / T. Engberg & Brian Knisley

Date created:

2014-11-03