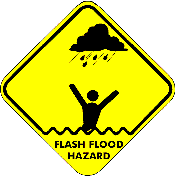 Flash Floods
Take the possibility of rainfall and flash flooding seriously when hiking the canyons of Northern Arizona. It is a good idea before you hike to study maps to identify possible escape routes.
Be especially careful hiking the Grand Canyon, Marble Canyon, and Glen Canyon regions. The slot canyons in these areas are beautiful, but can be extremely dangerous when it rains. Hikers have been killed in flash floods generated by thunderstorms as far as 25 miles away.
Flash floods can occur at any time of the year. Be alert for the possibility of flash flooding anytime that rainfall is forecast. Be especially cautious from July to mid-September when severe thunderstorms can develop rapidly.
Never camp in a dry wash. If you must camp near a wash, camp as high as possible and check for indications of past high water, such as stains on rock walls and debris lines.
Be cautious and/or avoid areas subject to flooding - stream beads, narrow canyons, and washes. Be especially cautious in areas posted with flash flood warning signs.
Do not cross-flowing water or flooded trails where water is above your knees.
Always face upstream when near or in any creek or drainage. Be alert! It does not have to be raining where you are to cause a sudden flash flood in your area.
Move to higher ground immediately if you see or hear a flood coming. Do not try to outrun a flood.
Warn other people downstream when a flash flood occurs.
Flash floods, which have been described as "more water than you want in less time than you have," are common in Northern Arizona. This is because the arid, sparsely vegetated environments found in this area have little capacity to absorb rainfall. The resulting runoff moves rapidly through the narrow canyons and steep terrain found throughout Northern Arizona. In many areas, even small storms can turn normally dry streambeds into raging torrents of water in a matter of minutes.
A flash flood can travel miles beyond the rainfall that generated it, catching unwary hikers and motorists by surprise. In Lower Antelope Canyon on August 12, 1997, twelve hikers were caught in a flash flood that filled the narrow canyon with water up to 50 feet deep. The hikers did not recognize the flood danger until it was too late, probably because the storm that caused the flood occurred miles away. Only one hiker survived!