Plan Your Visit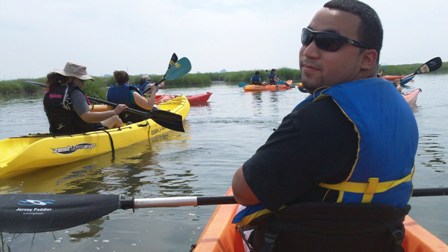 NPS PHOTO
The summer season has arrived...
...and as of the Memorial Day Week End our beaches are open! We have been busy with repairs and making the park safe and ready for our new array of events and offerings. The Summer Program Guide and Newsletter lists programs and events for June, July and August. Please check out our publication and see which programs are right for you.
There are some areas of the park that will remain closed as we continue to make repairs to fix buildings and infrastructure. These areas will remain closed until they are safe for visitors and employees alike. For a glimpse at how Hurricane Sandy affected the park, see the Gateway Program Guide Special Sandy Edition.
As areas open, we will continue to update our site. You can also visit our Facebook page to learn about recent openings, and what others are saying about Gateway.
What's open RIGHT NOW?
Great Kills Park (except the zone closed for radiation survey)

Fort Wadsworth

Miller Field
Floyd Bennett Field, Brooklyn (except fishing area near bridge, recovery areas, model airplane and model car areas and the "North 40")

Jamaica Bay Wildlife Refuge, Queens (loop for West Pond Trail remains blocked off after the pond was breached by the storm)

Frank Charles Park, Queens

Hamilton Beach, Queens
Sandy Hook reopened to visitors on Wednesday, May 1.
The gates open at 5 A. M. to accommodate fishing. Beach parking is free until Memorial Day week end, when the cost will be again be $15 per day. All parking lots except for Lot F are open. The park intends to open the beach centers on Memorial Day week end. Beach parking permits go on sale May 1st at 9 A. M. at the front gate. Beach parking permits cost $75 for the season, same as last year.
Beaches B, Gunnison and North are open to the public. The fishing beach is also open. Recovery work goes on in other areas of the Hook. Other areas will reopen when it is safe to do so.
Gateway is a vast park, crossing two states and three New York City boroughs. We look forward to opening as much of the park as possible when it is safe to do so. Demand could be heavy for the areas we are able to open. Please carpool!


How do I get there?

By car, bus, subway, bike, ferry or feet! If you live in the New York and New Jersey area, Gateway is closer than you think. Read More

Can I bring my pet?

Some areas of Gateway allow pets, while others do not. If pets are allowed, they must always be on a leash. Read More

Group camping in New York City

Have a youth group? Thinking of camping in New York City this summer? Read More
Did You Know?

The first transatlantic flight departed from the Rockaway Naval Air Station on Jamaica Bay in 1919.  Today, it is the site of Gateway NRA's Jacob Riis Park.