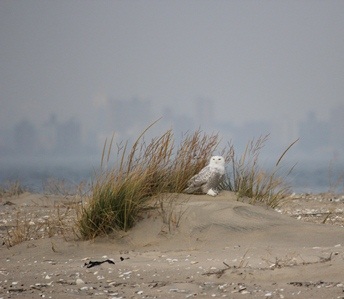 Snowy Owl, Sandy Hook, NYC skyline. National Park Service.
Winter brings bird species not seen at other times or the year.
Many people enjoy bird watching all year.
The park's unique landscape contains a variety of rare native habitats, including a salt marsh, upland field and woods, several fresh and brackish water ponds, and an open expanse of bay. More than 330 species of birds have been sighted in the last 25 years.
Change of Hours for Visitor Centers
Beginning November 15
To best address visitor needs while effectively utilizing our staff resources, we are modifying the hours of operation of our Visitor Centers from November 15 to March 5, 2016
Jamaica Bay Wildlife Refuge--Wednesday through Sunday, 10 AM to 4 PM.
Ryan Visitor Center--Wednesday through Sunday, 10 AM to 4 PM.
Sandy Hook Lighthouse Keepers Quarters--Sunday through Saturday, 10 AM to 4 PM.
We will resume the full 7-day operation, 9 AM to 5 PM, March 6, 2016.
Gateway Program Guides
The Gateway Program Guide for Winter for December, January and February is now ready. The Winter Guide has the fewest offerings, but there are some activities that may appeal to you, so have a look. At any rate visiting the park on a sunny day can be a great way to get outdoors and get moving... just remember to dress warmly, since the wind at the shore can be fierce.

Michael J. Paternoster