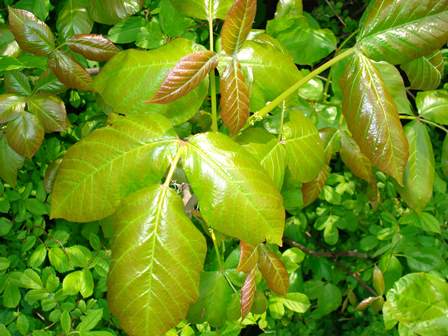 NPS PHOTO
Your safety is our highest priority
Visitors, employees and park partners deserve to be safe when visiting a national park. Our staff works hard to make your visit both safe and enjoyable. Knowing how to stay safe will help you and your loved ones to enjoy your visit to the fullest.
Beach safety
Be alert for strong ocean currents, powerful waves and underwater obstacles. Swim only at lifeguard protected beaches. If you cannot swim, please do not go into the water. Before you go to the beach, learn how to deal with rip currents. When out in the sun, please drink plenty of water. Also, use sunscreen and don't be afraid to reapply. Finally, watch out for the plant in the photo. It's everywhere.
Bicycle safety
Always observe the rules of the road while riding your bike at Gateway. Please wear your bike helmet and respect the rights of others while using the roads and pathways.
Hypothermia and heatstroke
While weather at Gateway is typically moderate, we can have summer days with temperatures in the high 90s, and below freezing temperatures in the winter with significant accumulations of snow.
Hypothermia, a medical emergency in which your body loses heat faster than it can replace heat, can occur even at temperatures above freezing. Symptoms include uncontrollable shivering, slow or slurred speech, memory lapses and incoherence and exhaustion. Immediate treatment includes giving victim war, non-alcoholic drinks, seeking shelter from the weather and getting the victim into dry clothes.
Heatstroke is caused by prolonged exposure to high temperatures or by doing physical activity in hot weather. Symptoms include high body temperature, lack of sweating, flushed skin, rapid breathing and unconsciousness.
Ticks, poison ivy and poison oak
Both dog ticks and deer ticks can be found at Gateway. Please do a complete body check after you have enjoyed one of our many outdoor activities. Both of these types of disease carry disease, so we recommend that if you do find a tick, note the date and follow up with a doctor if you have any rashes, achy joints or fever.
Poison ivy and oak generally have three leaves. If you think you have come into contact with them, please wash the affected area with soapy water.
General safety
Wear sunscreen. Drink water, and bring water when walking around Gateway. Wear appropriate foot wear and clothing, depending on your activity. If you or someone you are with needs emergency help, please call 911 or if at Sandy Hook, 732-872-5900.