Boating
You can enjoy a variety of boating opportunities within Fire Island National Seashore. Motorboats and sailboats are common summer adornments on the Great South Bay. Canoes and kayaks are less common, but may be safely used close to the shoreline.
The use of personal watercraft (PWCs)—also known as "Jet Skis"—is restricted within the boundaries of Fire Island. PWCs not allowed near the shoreline or in channels leading to any park facilities or marinas. PWCs may only be operated in the channels to specific Fire Island communities.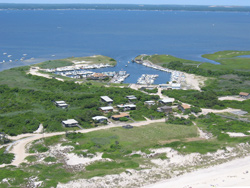 Boaters may stay overnight at the Watch Hill or Sailors Haven marina, operated within Fire Island National Seashore by Fire Island Concessions, LLC. Both electric and non-electric sites are available, and rates vary by size of vessel. Amenities at each site include limited food service (full-service restaurant at Watch Hill open on weekends), showers (no hot water), ranger-guided interpretive programs and a lifeguarded beach during the summer. There is a 14-day limit of stay at National Park Service marinas.
Other public marinas on Fire Island include the Town of Brookhaven's Davis Park Marina and Great Gun Marina (see map), which provide lower fees for town residents but may accommodate non-residents' vessels; hourly rates may also be available at these facilities. The Town of Islip maintains a marina on Fire Island at Atlantique Beach (See video), with a similar rate structure. The Village of Ocean Beach also operates a marina. Private marinas on Fire Island include those at Cherry Grove and Fire Island Pines, (which have seasonal and limited transient slips) and several commercial establishments that provide a place to dock on a short-term basis.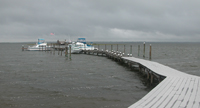 Fire Island National Seashore's primitive Old Inlet dock, adjacent to the Fire Island Wilderness, was located on Bellport Bay about 1½ miles west of the bridge to Smith Point County Park and the Wilderness Visitor Center. This site was a casualty of Hurricane Sandy, when its 20-slip dock, bay-to-ocean boardwalk, and small vault toilet were entirely destroyed as the breach at Old Inlet was created in 2012. Due to its location in the Otis Pike Fire Island High Dune Wilderness, this facility will not be re-constructed. The breach is expected to fill on its own or be filled mechanically, but no boaters are permitted to travel into the breach while it remains open. The Bellport Beach dock, approximately 3½ miles west of the bridge, is a Village of Bellport-owned property, not available for general public use.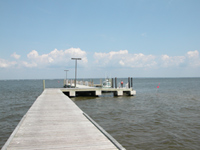 Barrett Beach, once a Town of Islip marina located between the communities of Water Island and Fire Island Pines, is now a Fire Island National Seashore dock used only for loading/unloading and for charter ferry use. Many smaller boats anchor near this dock and the adjacent Talisman bayside beach.
Most boaters stay for the day, with a few overnight boats at anchor. There are seasonal restrooms, a few picnic tables, and weekend lifeguards at Barrett Beach, but no other amenities.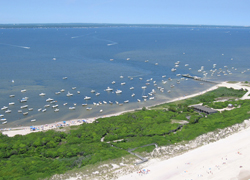 You may anchor off-shore, outside of channels, in much of the Great South Bay. There is a 14-consecutive-day limit for all overnight stays at park facilities or inside park boundaries (except in the designated wilderness, with a 3-night limit of stay).
Boat ramps for private vessels are available at nearby Captree State Park-on the eastern end of Jones Beach Island and north of the Fire Island Inlet-and several other nearby state parks, and at Smith Point County Marina.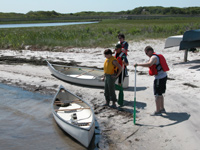 Canoeing & Kayaking
There are currently no canoe or kayak rentals at Fire Island National Seashore's facilities. However, the National Park Service offers a guided canoeing program at Watch Hill during the summer, when staffing and conditions permit. The two-hour program provides an opportunity to explore and appreciate one of Fire Island's salt marshes. There are age requirements for children and you must be able to swim, but life jackets, paddles and canoes are provided.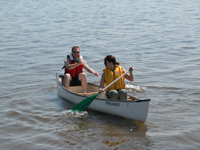 Coastal canoeing and kayaking requires a respect and understanding of tides and tidal currents, and wind, waves and weather. Weather can change quickly and fog can occur at times on the Great South Bay. As much as five miles off the south shore of Long Island, Fire Island's weather can be quite different from that on the mainland.
Several local canoe and kayak clubs and outdoor recreation organizations can provide additional information.
Please remember that no boats are allowed in the breach at Old Inlet due to its dynamic nature and shoaling around this inlet.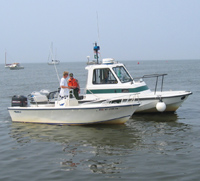 Always Boat Safely
Take a Boating Safety Course:
Additional sources of safety information and instruction include:
American Canoe Association (Kayak & Canoe Recreation)
U. S. Coast Guard Boating Safety
New York State Boater's Guide
New York State Office of Parks, Recreation and Historic Preservation
Did You Know?

Tiny rootlets of the American beach grass (Ammophila breviligulata) and mycorrhyzal fungi hold together the grains of sand that make up sand dunes on Fire Island. You can help protect the dunes by not walking or driving over the beach grass. More...