Sportsman's ORV driving limitations

Due to the breach at Old Inlet, the sportsman's driving area is reduced to approximately 1¼ miles of the beach west of the Wilderness Visitor Center. Required permits may be purchased at this visitor center when staffed, for use through 12/31/2013. More »
New Backcountry Camping procedures

Reservations for required permits must be obtained through Recreation.gov. Due to the breach at Old Inlet, access to both east and west wilderness camping zones must now be from Davis Park or access points west, and involve a 2½ to 10 mile hike. More »
Birdwatching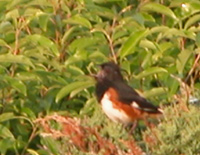 Fire Island's barrier island habitats and location on the Atlantic Flyway make this a good home for both resident and migratory birds.
The tidal marsh on the Great South Bay, especially at Watch Hill, is a good place to look for waterfowl, herons and egrets, and red-winged blackbirds.
The Sunken Forest, a mature maritime forest at Sailors Haven, provides dense cover for migrating warblers. Other birds, such as the towhee, can be heard rustling the leaves on the forest floor.
Near the Fire Island Lighthouse, the fall migration of hawks is monitored by the Fire Island Raptor Enumerators (FIRE) from September through mid-November.
Varied habitats of the William Floyd Estate include woods and fields, creeks and salt marsh, providing additional opportunities for bird watching.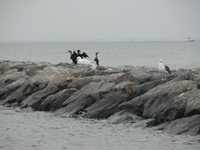 Local Audubon Society groups participate in "citizen science" by conducting annual Christmas Bird Count censuses and the Summer Breeding Bird Census in parts of the park.
The National Audubon Society and Cornell Laboratory of Ornithology sponsor an annual Great Backyard Bird Count in February. Participants can log on and get the easy-to-follow instructions and checklists needed to submit a report from their own backyard or local park or refuge. If Fire Island National Seashore is a part of your "backyard," join the count and provide your observations.
For the rare bird alert recording for New York City and Long Island Region (New York State Ornithological Association's Kingbird Region 10), phone:
212-979-3070
For More Information
Learn more about Fire Island National Seashore's birdlife.
Join a guided bird walk. Several programs are scheduled during the spring and fall at the Fire Island Lighthouse, Wilderness Visitor Center and at the William Floyd Estate (Old Mastic).
Birding for Beginners at Wilderness Visitor Center
Old Mastic Late Autumn Bird Walk

Sunday, November 20, 2011



Great Backyard Bird Count at the William Floyd Estate & on Fire Island
Old Mastic Winter & Early Spring Bird Walks

Sunday, January 22, 2012
Saturday, March 10, 2012
Sunday, April 1, 2012



Early Spring Bird Walk at the Wilderness Visitor Center

Birdwatching in the Fields and Woods of the William Floyd Estate
Check the on-going Calendar of Events and Activities for additional programs offered at Fire Island National Seashore.
Did You Know?
Horseshoe crabs come near shore on the full moon in May and June to lay thousands of eggs, which are a valuable food source for migrating shorebirds in spring and early summer. Occasionally, a perfectly-formed horseshoe crab molt can be found on the beach, shed as the young animal grows. More...