Nearly flat and perched on the edge of a rising ocean, Everglades National Park is already feeling the effects of a warming climate. Sea level rise has brought significant changes that are already being observed on the landscape, and more are sure to be seen in the years ahead. The future of the park is clearly tied to the present, so what can we do today about climate change? Select a topic below to explore...
You can find our supporting glossary and list of references.
Would you rather read this information from a PDF? Click here to download a copy.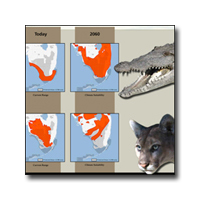 NEW - Climate Changes, Shifting Ranges
What will projected changes in temperature and precipitation mean for threatened and endangered species in south Florida? Download this new publication to learn more...
(PDF, 850 KB)