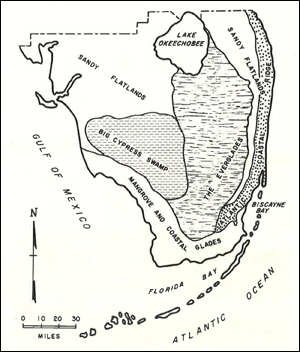 Image from Hoffmeister, John E. 1974. Land From the Sea, University of Miami Press.
Approximately 17,000 years ago-following the last such glaciation-the climate began to warm anew1. During this warming trend, south Florida slowly developed the humid, subtropical character it enjoys today. Subsequent millennia brought the arrival of regular summer rains, feeding recently formed Lake Okeechobee. In times of abundant rainfall, the shallow lake would periodically overflow its banks and send water south, emptying into a rapidly rising ocean1.
The Everglades, as we know them today, find their origins about 3,200 years ago as the pace of rising seas slowed considerably from 23 centimeters (9 inches) to only 4 cm (1.5 inches) per century2. This slower rise in sea level allowed a buildup of mud, shells, and sand at Florida's southern coast. The resulting ridge then acted as a low dam and kept ocean water from passing over it. The natural dam also retained rainfall and overflow from Lake Okeechobee forming a freshwater environment, the Everglades2. Forged by thousands of years of change, a large portion of this unique landscape is now protected as Everglades National Park.